Below we compare some key ways your cheap frames and online experience may fall flat compared to more high quality options.
The process of updating your prescription, searching for your perfect pair of glasses, selecting the right lenses, and factoring in insurance can feel like a chore. So it makes sense that cheap and convenient options like Warby Parker, Zenni Optical, EyeBuyDirect and more have become the standard for eyewear. But, choosing those options means sacrificing in a few areas.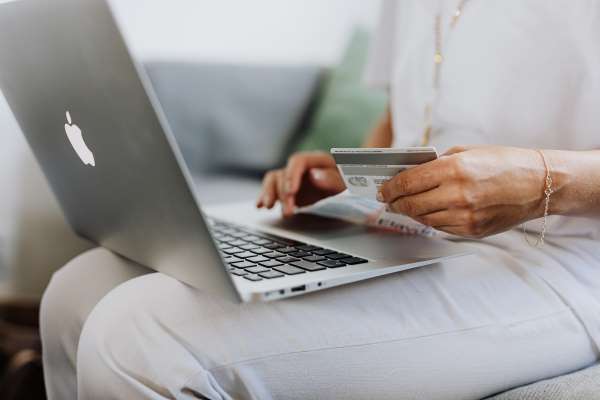 Cost Comparison:
Cheap Frames Burn Out Quick
In a basic price comparison the online shop seems to have a clear leg up. At Warby Parker, basic frames start at around $100, and some frames at Zenni Optical are as low as $6.99 (before lenses). By comparison, a quality pair of frames from CustomEyes starts at $300 and can go as high as $900+.
However, those cheap frames that seem like a deal now lack the lasting power needed for long-term daily wear, and require constant adjusting (which we do for free btw 😉). Luxury styles from a small design house offer incredible durability to match their price point, meaning one pair can be your style for a while. You can select a statement piece you love to wear everyday, and not worry they'll show signs of wear within 6 months.
Investing Now Saves Wasted Money & Resources on Multiple Purchases Long Term
Luxury frames are an investment in yourself and your vision, and it has returns. That old adage of "spend money to make money" applies here too.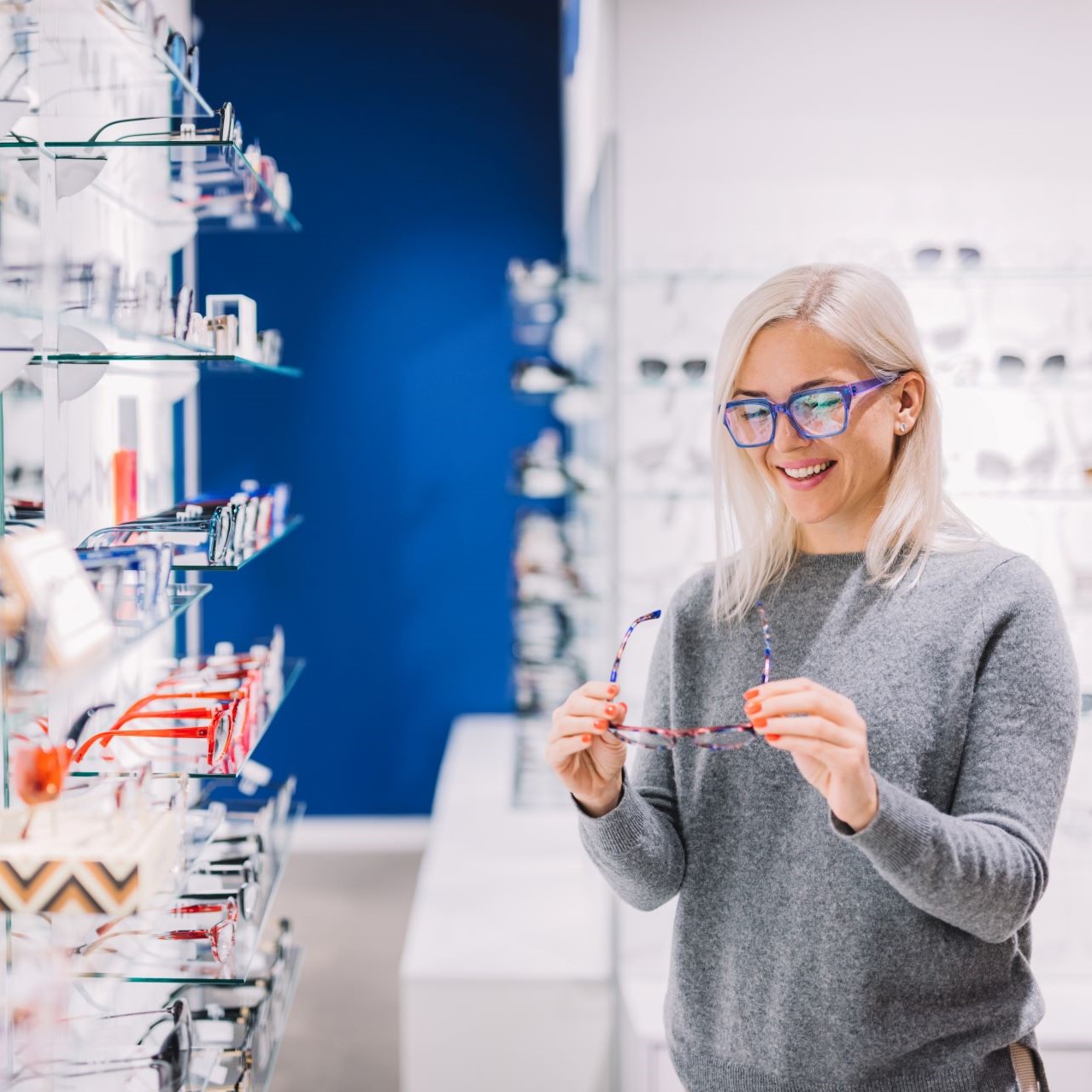 CustomEyes Avg. Frame Costs Over 10 Years*
*Based on a one time buy of a $500 Frame, the average costs of our designer frames.
Typically our patients can get up to 10 Years of daily wear out of a single pair of higher quality frames.
Year 1: $500 (+ lens cost)
Years 2 - 10: Lens Cost only to update prescription. New frames for style update only.
= $500 In Frame Costs Alone
Warby Parker Avg.
Costs Over 10 Years*
*Based on repeated buys of one $95 frame
While Warby Parker frames can be worn for multiple years, we find their frames often show noticeable degradation after 1 year of daily wear (based on anecdotal experience of our staff & patients).
Year 1: $95 (+ lens cost)
Year 2: New purchase $95 (+ lens cost)
Year 3: New purchase $95 (+ lens cost)
Year 4: New purchase $95 (+ lens cost)
Year 5: New purchase $95 (+ lens cost)
Year 6: New purchase $95 (+ lens cost)
Year 7: New purchase $95 (+ lens cost)
Year 8: New purchase $95 (+ lens cost)
Year 9: New purchase $95 (+ lens cost)
Year 10: New purchase $95 (+ lens cost)
= $950 In Frame Costs Alone
Quality Comparison:
It's Fast Food vs. Fine Dining
As we hinted at in the last section, one of the key differences between a cheap frame and an expensive one is their durability over time.
Prices are low at big-box online retailers because materials are cheap and easily shipped. This is not an investment, or a purchase for quality. This is a purchase to accomplish a goal, like a fast food burger on your drive home.
You'll get the instant gratification of a new pair of glasses, but none of the long term benefits offered by an investment pair.
What Gets Sacrificed For the Cheap Price...
Materials
Those easy and cheaply produced materials are often lower quality plastics, and metals that don't age well. Plastics can break easily and lose shape quicker while metals can oxidize and leave undesirable green residue.
Individuality
Ever notice how easy it is to spot a pair of Warby Parker glasses? That's because the style options are limited.
Perfect Fit
An incorrect fit or not quite right focal point on your lenses can have an affect on how well your glasses help you see. When you buy online, you skip this step unless you go in-person to a store location or optometrist after your purchase.
Vision Care
Some online retailers allow prescription renewals online, which can have you skipping crucial annual checkups and unintentionally ignoring the overall health of your eyes over time.
Lens Options
Most people overlook the importance of the right lens for lifestyle. You may find versatility in coating options but not much choice in lens material, which can often have an affect on your vision clarity.
Experience: Automated Service
vs. Personalized Care
Cost is important, but one of the ultimate differences in investing in your eyewear is the overall more personal and attentive experience you'll have in selecting your frames and lenses.
When you enter the door at a place like CustomEyes you're an individual in need of vision care and glasses that make you feel confident, rather than another sale to make or, arguably worse, an ignored customer.
Instead of a salesperson, you'll have an optician who will talk you through your style preferences, and specific vision needs. They will get to know you, and become your style beacon, helping you select frames that compliment your face, and providing in-depth knowledge on the quality and manufacturing of their handmade frames.
The lenses themselves are hydrophobic and oleophobic, meaning oil from hands and water will bead off, leaving your vision crystal clear without constant cleaning.
All frames at CustomEyes are luxury and handmade brands.
Want to see for yourself? Stop in for a Free 30-Min Frame Styling!
A Summary of The CustomEyes Experience
The CustomEyes experience is tailored to you. The benefits are, well, you wouldn't believe them unless you saw them with your own eyes!
A Welcoming Atmosphere
After 2020, wouldn't it be nice to actually have a conversation with a real person who wants to see you happy?
Help Browsing & Finding Styles:
An optician will assist you with a tray of frames you selected to try-on. They will give you feedback and tell you about the quality of each individual choice in your selection.
Option to Use your Insurance
At CustomEyes there are more opportunities to use insurance to cover your exam, frames and lenses (depending on coverage).
Evaluation of Needs Based on Lifestyle
Are you staring at a computer screen 6 hours a day? Do you need separate glasses for reading? You'll get a full lifestyle evaluation to make sure you get the correct lenses and frames for your vision needs.
Industry leading Materials
Whether it's Mazzucchelli Acetate made in Italy, titanium, buffalo horn, japanese acetate, surgical stainless steel, gold, diamond and more ––all come with a warranty you should rarely need, because these materials are handmade and durable.
Unique Styles
The frames here are like a work of art, one you get to take home and show off. Plus, we have the largest selection of designers in the Chicago area.
Durability
This purchase is going to offset 4-10 years of new glasses purchases, So you'll actually save money.
High Quality, Warranty Protected Lenses
Incredibly durable and high quality lenses with a 2 year warranty, an unheard of industry best warranty. Anti-Glare- light reactive, and blue-light filtering options available. Lenses feature high-end hydrophobic and oleophobic technology.
Vision and Eye Health: Glasses Aren't The Only Thing That Help You See
In the modern world, you can do just about everything online, including an eye exam, which many quick online retailers offer. But, do you really want your eye health in the hands of an algorithm? In order to see well out of your glasses, precise measurements need to be made, and frames need to be adjusted accordingly.
This option may be convenient and accurate enough for confirming prior prescriptions, but yearly exams are important for keeping your vision solid long term.
Full in-person exams, like the ones offered at CustomEyes, check the full scope of your eye health, not just your prescription. Plus, advancements in technology, like the Optomap retinal exam, also means eye exams may not be as stressful as you remember them. This non-invasive procedure provides a more detailed view of the landscape of the eye without dilation. This vision snapshot allows doctors to make more comprehensive decisions and evaluations about your eye health over time.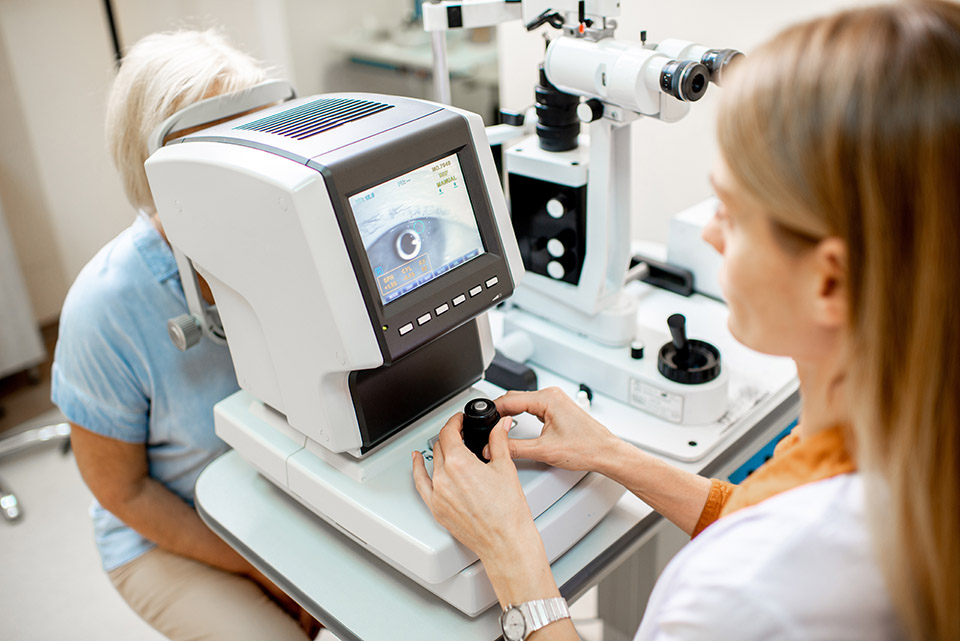 The Side By Side Comparison
When you are shopping for your next pair of glasses, you have two choices. You can purchase a cheaper pair for convenience or have a comprehensive vision experience, and find a lasting high quality pair.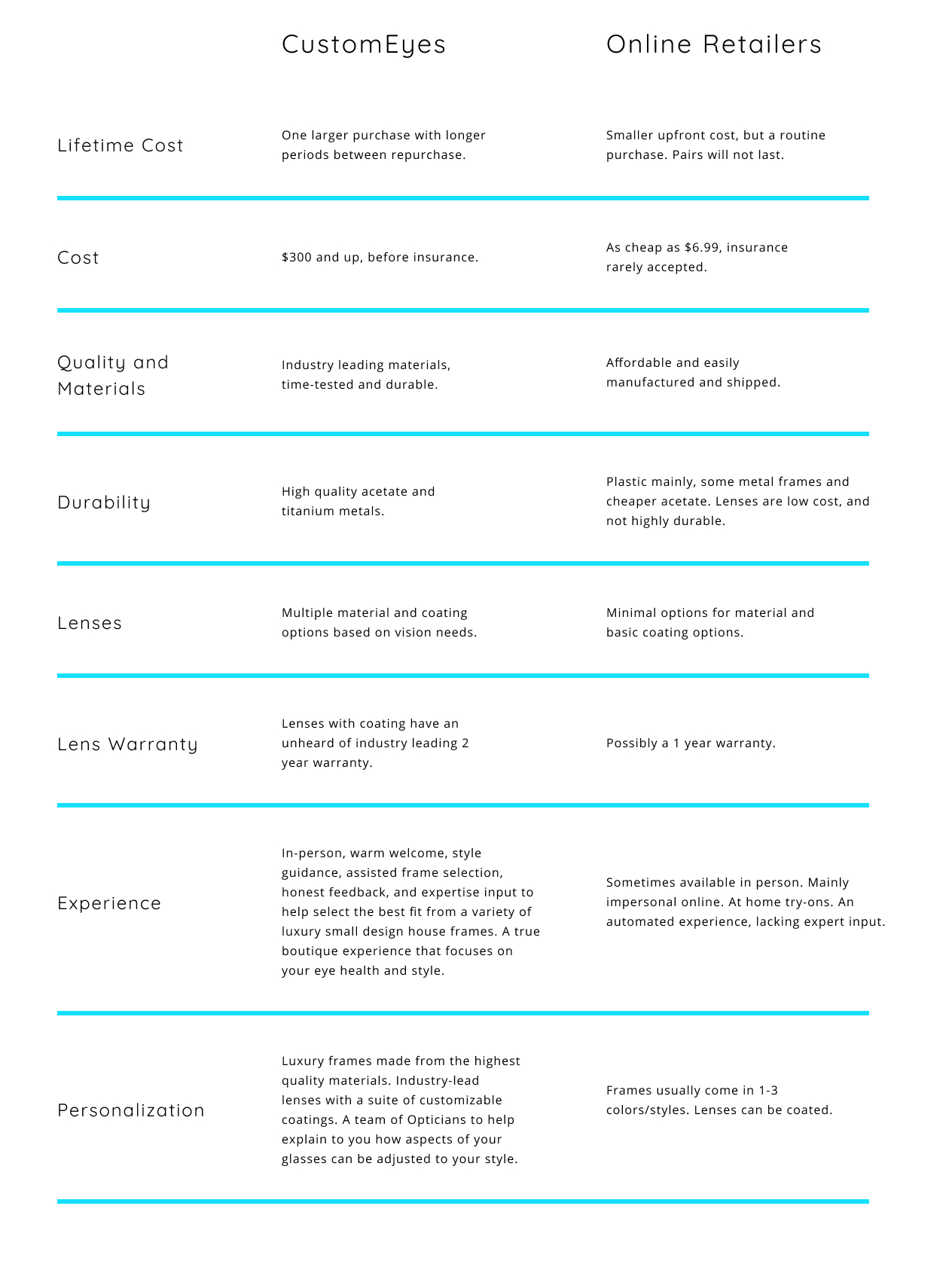 Our Recommendation: We believe eyewear is a long term investment worth spending the money on, but if you're not ready to spend big on glasses at least invest in full yearly eye exams in the meantime.
Convinced it's time to invest in your eyewear?
Schedule a free 30-min frame styling and we'll help you find the perfect pair. Explore your style with an expert guide and find your new favorite pair of glasses.