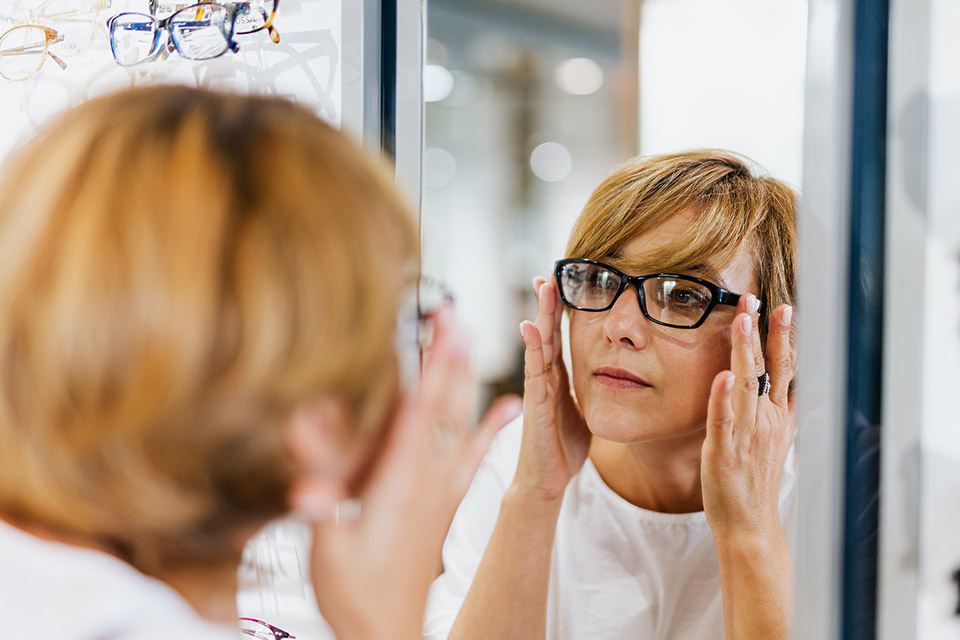 In addition to being your ally on your journey towards better eye health, glasses are also a great fashion accessory. However, when they don't fit properly, they can be quite annoying or even painful to wear. Here are some signs your glasses need adjusting by a professional.
Your glasses are sliding down your nose.
If you constantly have to push your specs back into place, then the sides might need adjusting to make them fit better.
They're loose behind your ears.
This may mean that the frame has splayed, which often happens if you wear your specs as a hair band or put them on and take them off with one hand.
They hurt behind your ears.
When your glasses don't sit comfortably behind your ears it can be pretty painful, especially if they are rubbing on your mastoid process, the smooth pyramidal or cone-shaped bone projection at the base of the skull on each side of the head.
[adrotate group="2″]
The nose pads are digging in.
While most eyeglasses sit on top of the nose, metal frames rely on nose pads to evenly distribute weight. When they're set incorrectly, they can leave red marks on your skin and cause painful pinching.
Your glasses leave marks on your cheeks. If you see red marks on your cheeks when you take your glasses off, they may be too tight at the temples or around the ears.
You need to tilt your frame to see clearly.
If your frame isn't sitting straight on your face, you're not looking through the correct part of the lenses. If you have high prescription, bifocals or varifocals, a wonky frame may even affect your vision.
You've had them for over a year.
If you've had your glasses for over a year and haven't yet had them adjusted, it's time to see your optometrist. You'll notice the difference and your eyes will thank you.
How high-quality glasses compare to cheaper options in fit
The key difference between a high-quality pair of glasses and a cheaper alternative is their durability over time. Prices at big-box online retailers are low because the materials used are cheap and easily shipped. These materials are often lower quality plastics and metals that don't age well. Plastics can break easily and lose shape quicker, while metals can oxidize and leave undesirable green residue on your skin.
More premium glasses made from high-quality materials are a lot more durable. Therefore, buying cheap glasses may cost you more in the long run, while a more expensive but high-quality pair is an investment in your vision health. With high-quality glasses, you can select one pair and not worry that they'll show signs of wear within 6 months. Also, as glasses are crucial to your vision health, having a proper eye exam and talking to a professional optometrist before choosing your next pair of glasses can make a big difference.
[adrotate group="3″]
How a professional optician can adjust your glasses for you
If you have a plastic frame
Plastic and acetate frames are most commonly adjusted with a frame heater machine. If your glasses have been stretched or are a bit crooked, your optometrist can heat the frame to bend it back into position. Heating at the bridge will make it easy to adjust the frame and straighten it. If you need a tighter or looser fit, the heat can be concentrated at the temple and the bend can be changed.
If you have a metal frame
Metal frames are typically adjusted with tools such as a plier. If you need your frame to sit up higher or lower, the nose pads can be adjusted. Adjusting the arms is similar to adjusting a plastic frame as metal arms have a plastic sheath over the ends on which heat can be used.
If you have a nylon frame
A nylon frame is where there's a metal frame at the top, while the lens is held by a piece of nylon at the bottom. If your lens pops out, the frame can simply be renyloned.
Note that the screws can always be tightened or replaced on any frame as well for a better fit.
If you'd like to have your glasses adjusted, feel free to contact us today!
We are your local eye care company that has been operating in Chicago since 2003. Our goal is to always provide you with the best possible solution for your unique needs, and make you feel as comfortable as possible.
Book an Appointment Today and Find a Pair of Glasses You'll Love!
We have eight locations across Chicago, so no matter where you are a CustomEyes is nearby!