Do You Often Use Digital Screens? Here Are 10 Useful Tips to Relieve Eye Strain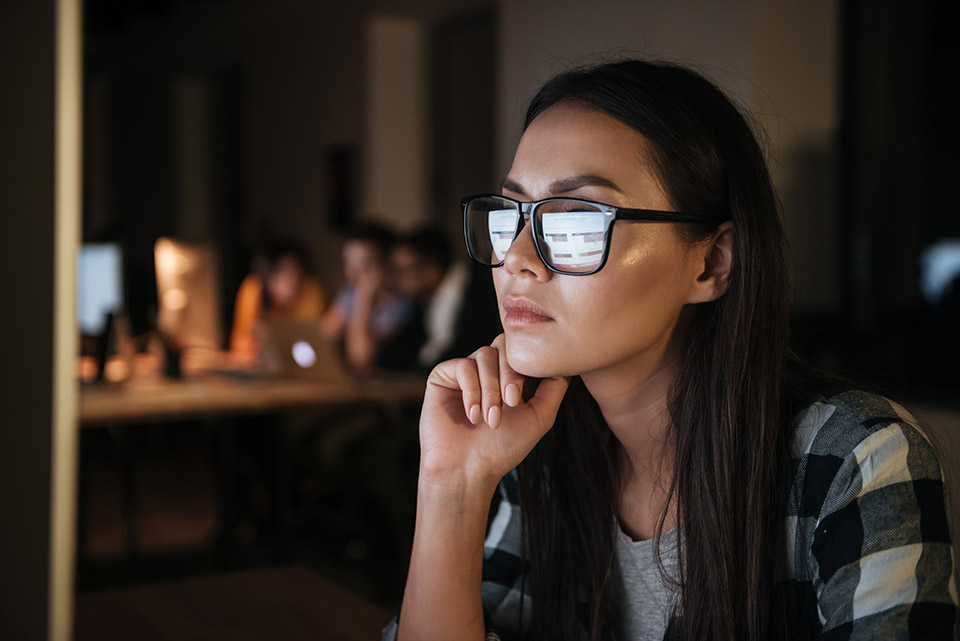 Do you ever feel like your eyes are dry, tired, twitching or red and irritated after using your computer or another digital device? This is what we call eye strain. Researchers estimate that at this day and age, we tend to spend up to seven hours per day staring at a screen, which is tiring for our eyes. In most cases, eye strain is only temporary and disappears quickly, and there are also many ways you can give your eyes a break and get some relief.
What are the symptoms of eye strain?
Eye fatigue and discomfort
Dry eyes
Headaches
Blurred vision
Red, irritated eyes
Eye twitching
Neck and shoulder pain
Increased sensitivity to light
[adrotate group="2″]
How to relieve eye strain?
Rest your eyes
When it comes to tasks that require intense focus, it's important to give your eyes adequate rest. If you're spending a whole day using a computer for instance, your eyes are working hard. Make sure to give them a rest from close-up, focused work. Go for a walk, close your eyes for a bit, and at the end of the day, choose an audiobook, a podcast or spend time with family and friends instead of watching TV.
Keep a distance
While sitting closer to your computer may feel more comfortable, in reality, your eyes have to work harder to focus. Therefore, keeping a safe distance can help your eye muscles relax, which can prevent eye strain. It's recommended to sit about 25 inches, or an arm's length, away from your screen and have it positioned in a way that your eyes look slightly downward at it.
Remember the 20-20-20 rule
Every 20 minutes, look away from your screen and focus on something that is 20 feet away for at least 20 seconds. Your eyes will thank you as this gives them a chance to relax their focusing muscles and get a break.
Use proper lighting
Eye strain is often caused by excessively bright light either from outdoor sunlight coming in through a window or from harsh interior lighting. The worst problems are generally from sources above or behind you, including fluorescent lighting and sunlight. Consider turning off some or all of the overhead lights, lowering their intensity and closing the drapes. Also, if possible, position your computer screen so windows are to the side, instead of in front or behind it.
Minimize glare
Glare from light reflecting off walls and finished surfaces, as well as reflections on your computer screen can also cause computer eye strain. Consider installing an anti-glare screen on your display and, if possible, don't put your screen in front of a bright-colored or plain white wall.
[adrotate group="3″]
Adjust your computer display settings
Adjusting the display settings of your computer can help reduce eye strain and fatigue. Try these settings:
Brightness. Adjust the brightness of the display so it's approximately the same as the brightness of your surrounding workstation.
Text size and contrast. Adjust the text size and contrast for comfort, especially when reading or composing long documents. Usually, black print on a white background is the best combination for comfort.
Color temperature. Reducing the color temperature of your display lowers the amount of blue light emitted by a color display for better long-term viewing comfort.
Keep your environment comfortable
Your eyes can be affected by the environment around you. Air conditioning, indoor heating or a fan blowing onto your eyes can all impact your eyes' comfort. Office environments with low humidity and indoor air pollution may increase the risk of dry eyes or digital eye strain. Avoid working with a fan or heater aimed towards your face. You can also keep a humidifier nearby to reduce the risk of dry eyes.
Blink often to refresh your eyes
When staring at a screen, we tend to blink less frequently and less fully, which can contribute to dry eye and eye strain. As blinking produces tears that moisten and refresh your eyes, try to make it a habit to blink more often when looking at a monitor. You can even use artificial tears to keep your eyes lubricated.
Try blue light filters
Blue light is all around us; it's produced by the sun, artificial lights and by our digital device screens. While it has many benefits, it has also been linked to macular degeneration and can interfere with your sleep patterns. For a bit of extra protection against blue light, ask your optometrist if there's a blue light lens or coating that's right for you. Note that you can also wear non-prescription blue-light glasses.
Get a comprehensive eye exam
The best thing you can do for your eyes is to have a comprehensive eye exam every year. This can not only help you keep your vision healthy but can also warn you about other health issues you may have. During your exam, be sure to tell your eye doctor about any vision issues you may experience, as well as about how often you use a computer and digital devices at work and at home. Book an appointment now for an eye exam!

We are your local eye care company that has been operating in Chicago since 2003. Our goal is to always provide you with the best possible solution for your unique needs, and make you feel as comfortable as possible.
Book an Appointment Today and Find a Pair of Glasses You'll Love!
We have eight locations across Chicago, so no matter where you are a CustomEyes is nearby!