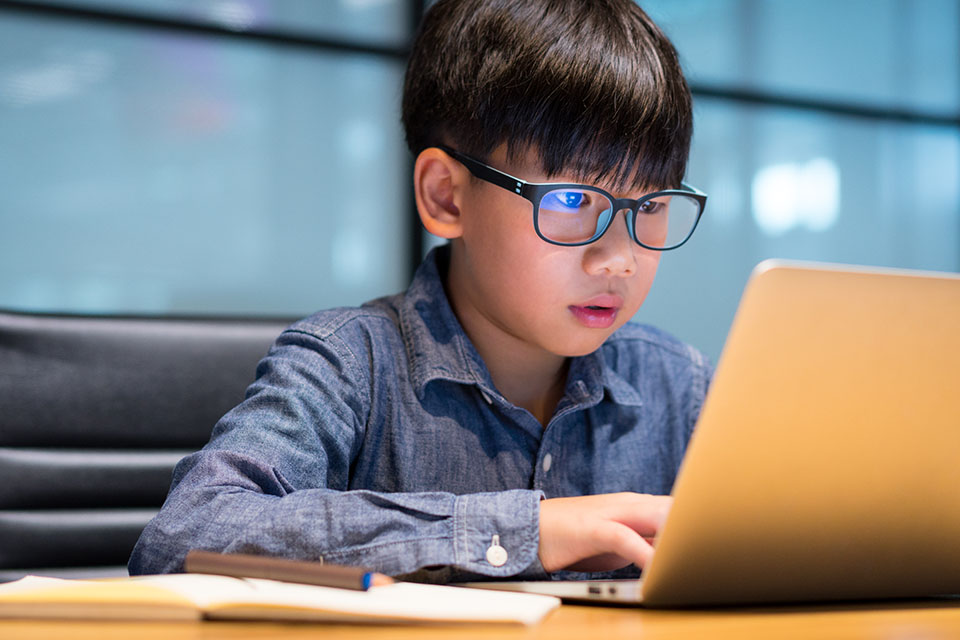 Last year was a busy year. It seemed like everybody had a remote option available, especially schools. So, whether or not you liked it, your child probably got more accustomed to screens than ever before. With the uptick in screen time for your child, are there new concerns over their eye health?
Blue light is naturally occurring all around us. We receive blue light through the visible spectrum from the sun's rays. We are also exposed to blue light through all the screens we use: phones, tablets, computers, and televisions. Blue light has a link to digital eye strain, which can lead to headaches, drowsiness, fatigue, and eye-dryness over time.
Blue light may also contribute to macular degeneration, so preventing exposure may help to alleviate or prevent this condition. This is still a fairly new concept, and technology changes every day, so further research is needed to determine how significant this exposure can be. However, it is better to be proactive rather than reactive. So there are several strategies recommended by eye care professionals to lessen potential impacts, and one of those recommendations is blue light filtering lenses.

Blue light filtering lenses have become increasingly popular for employees and business owners whose job requires them to extensively stare at a screen. The lenses can have a slight blue or yellow tint to them, but are otherwise unnoticeable. Blue light lenses are available for non-prescription users as well. Anti-glare and reflective coatings can also boost the blue light blocking ability of certain lenses, consult with your eye care professional for questions.
For your child, the earlier you catch and monitor exposure, the more likely you are to prevent any negative effects from becoming a concern. Blue light lenses are available for children, and there is no shortage of sleek handmade frames and materials available at our locations.
Other options you have to reduce and monitor exposure for your child:
20/20/20 Rule
After 20 minutes of looking at a screen, avert your gaze for 20 seconds at least 20 feet away. Preferably to an area with no other screens.
Take breaks
Whenever your child expresses strain, discomfort, dryness, or irritation, it is okay to take a short break. The easiest thing is to take note of any symptoms or discomfort and take time away to monitor recovery.
Angle of your screen
Try not to have the screen directly in front of your face. Place our monitor or laptop at a comfortable distance away, and angle it so that you look down at it. This makes breaking contact and moving away from and blue light irritation easier.

Blink
Whenever it feels right, do it. Staring at screens can interrupt our natural eye moisture routine monitored by our body. So any time you think you should, blink to remoisturize.
As always, talk with your eye care professional. At CustomEyes, we are always available to help advise and consult with you on your eye health, and that of your child. We want happy, healthy eyes to keep looking toward the future. Schedule an appointment today!
We are your local eye care company that has been operating in Chicago since 2003. Our goal is to always provide you with the best possible solution for your unique needs, and make you feel as comfortable as possible.
Book an Appointment Today and Find a Pair of Glasses You'll Love!
We have eight locations across Chicago, so no matter where you are a CustomEyes is nearby!