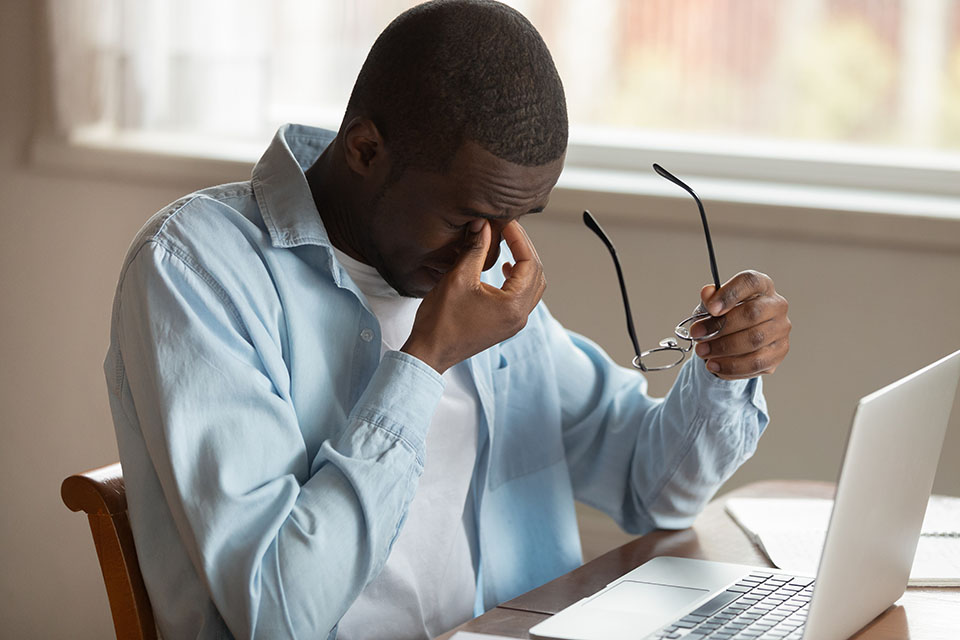 Your eyes are with you every step of your day. Every cup of coffee, every Zoom meeting, every spreadsheet or email. With so many digital screens these days, you have to stop and ask, are you doing everything you can to protect your eyes?
Throughout the day your eyes are exposed to UV light and the spectrum of light from the sun. Along the visible spectrum of red, orange, yellow, green, blue, indigo, and violet (ROYGBIV), each type of light has a different wavelength and energy. Blue light has shorter wavelengths and higher energy.
The effect of prolonged exposure to blue light is not yet fully understood. We are in an early era of technological exposure and experience. There is some evidence that blue light helps to signal alertness to your eyes and brain, which can disrupt sleep schedules. This is why in order to get good sleep, it is recommended that an hour or two before bed you stop looking at your phone or computer screen. Sleep issues, eye strain, headaches can all be attributed to overexposure to blue light. And for anyone who has suffered from dry eyes, blue light can exacerbate the problem.
[adrotate group="2″]
Dry eyes is a condition where your eyes do not produce enough moisture, or the quality of the moisture is not enough, to lubricate your eyes. It can create difficulty driving, watery eyes (as your eye attempts to correct), a burning sensation, blurry vision, and can make you feel fatigued. There are several ways to combat dry eyes.
Take mini breaks from your computer screen every hour or so. Taking a 10 minute break away from your screen can help your eyes reset
Use preservative free tears. Contact your eye health professional and discuss what kind of eye drops would be beneficial to your eye type. Over the counter and prescription types are available.
Get more sleep. Resetting your sleep cycle will have a positive effect on your eye health.
Consider blue light glasses. Using lenses with a coating to eliminate blue light exposure can help protect your eyes and relieve symptoms of exposure.
Why You Should Consider Blue Light Protective Glasses
Blue light protective coatings are unnoticeable on your lenses. If you are the kind of person who likes to wear sunglasses to protect your eyes from UV light, it just makes sense to protect them from blue light exposure indoors.
If you are looking at a screen for 6 hours or more a day, it is recommended that you consider blue light protective lenses. Limiting exposure and being proactive about your eye health can help with strain and keep your eyes healthy for the long term.
[adrotate group="3″]
So far the only proven direct correlation between blue light exposure and eye health is sleep disruption. But we do not know what complications may be associated down the road. If you are concerned about your blue light exposure, and your overall eye health, please consult with one of our doctors during your next vision appointment.
At CustomEyes, we are all about frames and lenses that fit your style and needs. Book an appointment at one of our 8 Chicago locations and let's chat about how we can help you see the world!
We are your local eye care company that has been operating in Chicago since 2003. Our goal is to always provide you with the best possible solution for your unique needs, and make you feel as comfortable as possible.
Book an Appointment Today and Find a Pair of Glasses You'll Love!
We have eight locations across Chicago, so no matter where you are a CustomEyes is nearby!