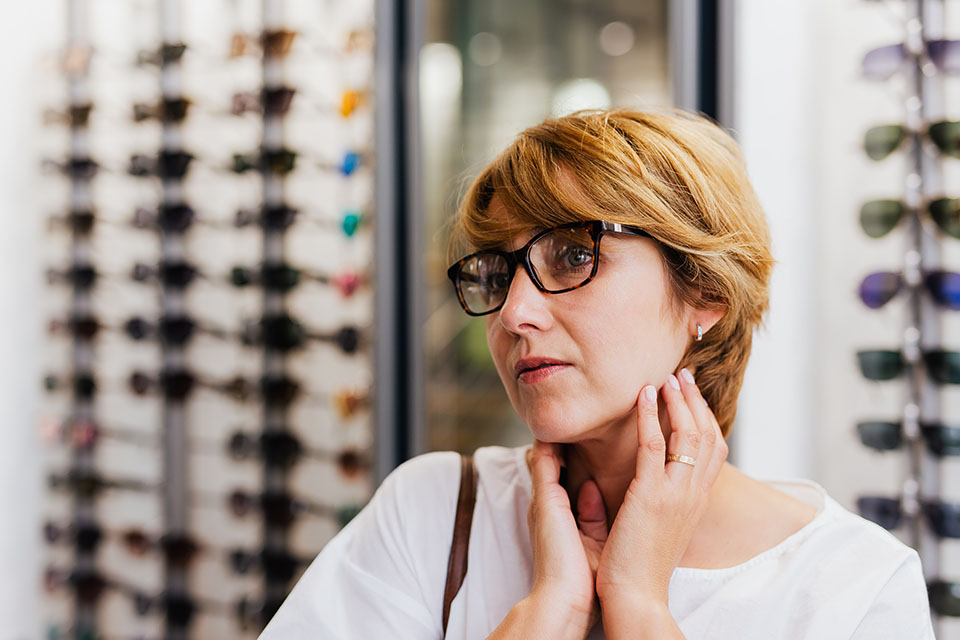 It's time for new frames, but the choices are endless. When it comes down to it, do you want a flashy blue pair? Or is it maybe time to go with a more modest tortoiseshell, or simple brown? Let us tell you how we can help you at CustomEyes and what you should consider when picking your new pair of glasses.
When you come to one of our 8 locations in and around Chicago, an optician will greet you with a warm welcome. They will get to know you and your style. You will tour the available frame options together and design a "look book". Once you have all your selections on the tray, you can both really dig into the different qualities and materials behind each frame.
[adrotate group="2″]
During a free 30 minute frame styling at CustomEyes, you can anticipate a style experience. Once we know your aesthetic and looks, we can advise you on frame color selection.
It is 2021, but some trends stay with us. Typically frame color selection is guided by some criteria:
Hair Color
Hair color has a tone and quality to it which complements or clashes with warm and cool frame tones. Tortoiseshell frames with brown-red hair, black frames with cool blonde hair, these are the simple "rules"(but rules are meant to be broken!).
Eye Color
Eye color will pop in the right frames, or complement another. So you can decide with your optometrist whether the goal is to highlight your eyes, or your beautiful new frames.
Skin Tone
Skin tone is tricky. There is nothing one skin tone can wear that another cannot. But there are complimentary "rules", according to tone and warmth of color. Also be sure to discuss with your optometrist the difference in tone between your natural skin and any concealer or makeup tone. Bring your makeup with you for comparison. You want your frames to be universal for your look.
Personality
Are you quirky? Aren't we all? What about serious and professional? Stoic? Imaginative (maybe "Lennon" circle glasses?) This is where you get your own input. Powder blue with rose-tinted frames? Sounds like a summer to remember!
Ultimately the decision is yours. Only you can decide what flies with your vibes in 2021. There is no right or wrong anymore. If you want to rock high-quality, industry and manufacture leading, pink and blue half-moon frames––that's your jam.
[adrotate group="3″]
But it is always encouraging to have a style-guru to bounce your ideas off beforehand. At CustomEyes, we give you just that, along with a comprehensive retinal exam, the highest grade selection of small design houses, luxury handmade frames, and industry best lenses with warranty. When you want your own style on display, CustomEyes is the way! So contact us today to schedule your 30 minute frame styling consultation!
We are your local eye care company that has been operating in Chicago since 2003. Our goal is to always provide you with the best possible solution for your unique needs, and make you feel as comfortable as possible.
Book an Appointment Today and Find a Pair of Glasses You'll Love!
We have eight locations across Chicago, so no matter where you are a CustomEyes is nearby!