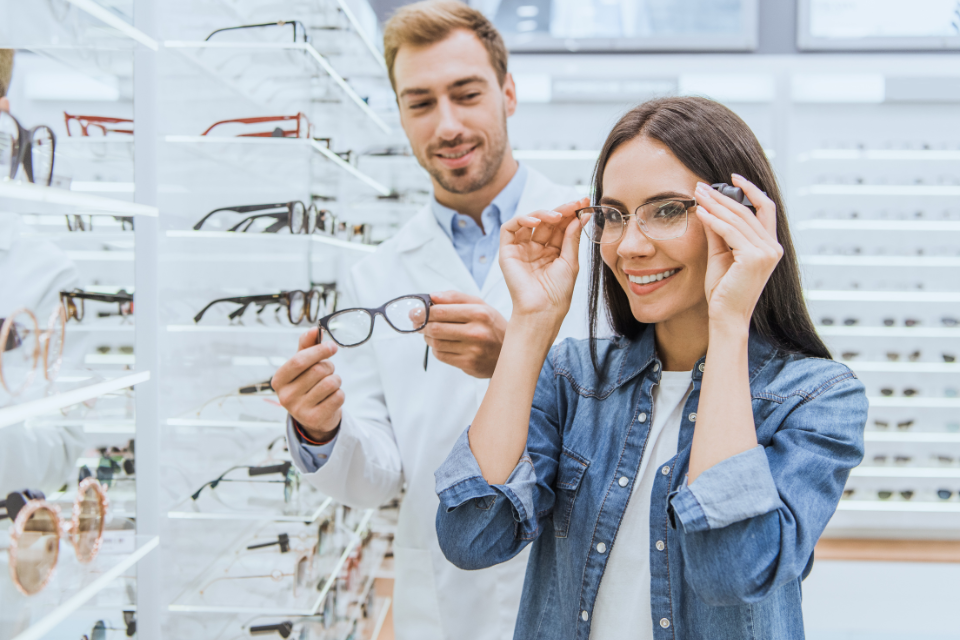 If you wear glasses, you know that your face shape, skin tone, and lifestyle can influence your choice on what type of frame will look best on you. However, there's one more factor to take into consideration when hunting for your next perfect frame: your prescription lens. Below, we offer tips and tricks on how to pick the perfect frame to fit your unique correction needs.
High Negative Power
A high negative power, meaning that you have a power higher than -6, usually signals nearsightedness. This means that you see well up-close, but have difficulty focusing into the distance.
To help correct your vision, your lenses will be thinner in the middle and thicker towards the edges. These lenses look best with frames with thicker rims, such as eyeglasses made from cellulose acetate. Avoid lenses that are thin at midpoint or are rimless or semi-rimless, as these can create a "coke-bottle effect". Instead, go for a shorter, narrower frame to shave off the outer perimeter. Rounder frames are also a good option.
High Positive Power
If you have a high positive power, or are farsighted, you'll have lenses that are thicker in the middle and thinner around the edges. This can result in a bug-eyed effect, where your eyes are magnified and the sides of your face look diminished. To avoid this, go for shorter and narrower frames. Slender frames made of metal and titanium frames are an ideal choice. Try to avoid rimless or semi-rimless frames, too.
Zero Power Reading Glasses
For reading glasses, frames that are shorter vertically and broader horizontally are a great choice, as they give you a wider field of view for reading. Lighter frames made of titanium or stainless steel will help you avoid feeling the weight on your nose.
Multifocal Lenses
When you require prescription glasses with more than one power — for instance, if you need bifocal, progressive, or multifocal lenses — avoid aviators. Rounded edges, cat eye, retro wingtip, circular, and oval frames are all good choices. Oversized frames also work.
At CustomEyes, we take pride in a personal experience, which means that in any of our eight stores in Chicago, an optician will be your biggest ally in finding your perfect pair of glasses.
They'll give you a warm welcome, style guidance, honest feedback, and offer their expertise to help you find the best fit from a variety of luxury design frames for both your eye health and style.
Want to see it for yourself? Schedule a free frame-styling now!

We are your local eye care company that has been operating in Chicago since 2003. Our goal is to always provide you with the best possible solution for your unique needs, and make you feel as comfortable as possible.
Book an Appointment Today and Find a Pair of Glasses You'll Love!
We have eight locations across Chicago, so no matter where you are a CustomEyes is nearby!