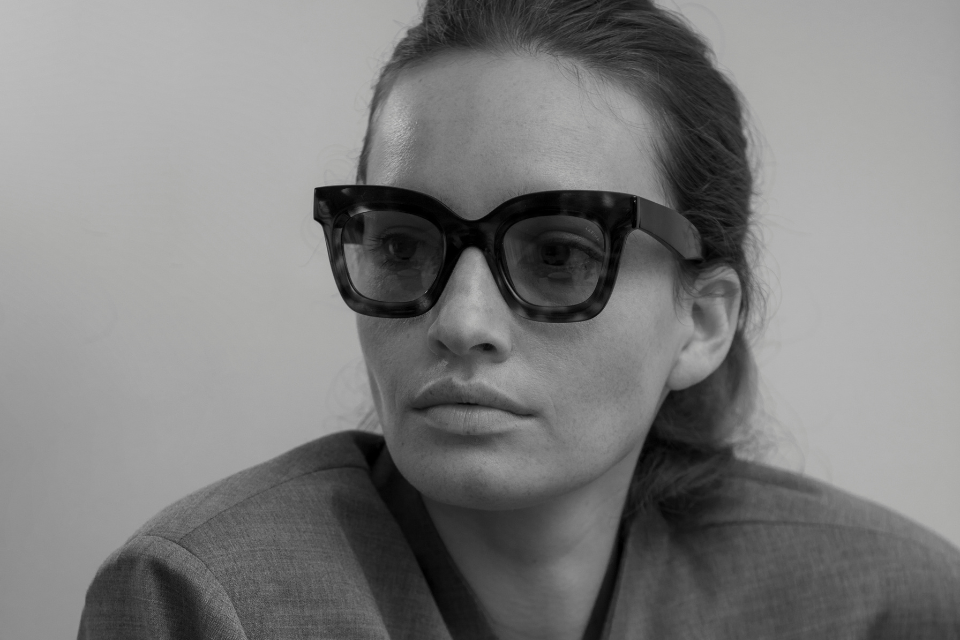 If you're looking for your next pair of designer eyewear, take a look at these exquisite eyewear brands you can find at our eight CustomEyes stores in and around Chicago.
AHLEM
When you get your hands on a pair of AHLEM glasses, remember that they have already been through an astonishing journey. Throughout production, glasses travel to three specialized ateliers and into the hands of nine skilled artisans, each with a particular craft passed down through generations. Particularly inspired by the timeless applications of early 20th-century Bauhaus design principles, AHLEM glasses are small-batch, artisan frames, built for longevity in both style and fabrication. AHLEM's belief is that simple, elegant designs executed in superior materials will produce objects that can last a lifetime, so the eponymous brand of Paris-born and Los Angeles-based designer Ahlem Manai-Platt produces elegant frames that can last you a really long time.
Lapima
This authentic eyewear brand was founded in the Brazilian countryside by a ballet dancer and an aspiring architect in 2016. Inspired by artistic movements and Brazilian landscapes, Lapima's essence juxtaposes luxury and attitude with frames sculpted from Italian acetate. Whether you're after bright colors or earth tones, the couture eyewear label provides an array of hues and styles that will fit perfectly. Lapima uses both state-of-the-art machinery and craftsmanship to create refined pieces that play with volume, light, and shadow, infusing modern lines with vintage elegance.
Lindberg
Constructed without any screws or rivets, Lindberg's classic, discrete, and elegant frames are all ultra-lightweight and comfortable. While every piece is designed and made in Denmark, the originally family-founded brand now belongs to the global luxury group Kering Eyewear that designs and distributes eyewear for 16 luxury fashion brands such as Gucci, Balenciaga, and Alexander McQueen. Boasting over 110 internationally recognized design awards to date, Lindberg creates a unique intersection between architectural design and comfort within eyewear. The brand uses responsibly-sourced, durable, and precious materials including titanium, gold, platinum, buffalo horn, fine wood, and diamonds. Lindberg's keywords are minimalism, impeccable Danish design, and quality.
Thierry Lasry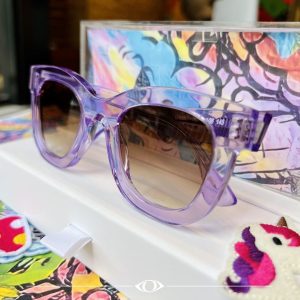 While Thierry Lasry's sunglasses are iconic, worn by A-list celebrities like Beyoncé, Rihanna, Jay-Z, Future, Jennifer Lopez, Maluma, and many more, his optical frames are just as exquisite. The French designer's frames—or babies as he likes to refer to them—are fashion accessories, mixing that renowned Parisian style with groundbreaking designs. Each design features clear lines, geometrical shapes, and surprising colors. As Thierry Lasry's designs speak for themselves, the logo is hidden from the eye, discreetly engraved inside the temples. The name of each style frame ends in a "y" because this is the letter found in both of the designer's first and last names. Lasry's elegant frames are entirely hand-made with the best craftsmanship techniques and traditional know-how and only use acetate from the reputable Italian manufacturer Mazzucchelli.
You can try on the frames of any of these outstanding brands at our eight CustomEyes stores in and around Chicago. If you'd like some professional assistance with choosing a pair of designer eyewear that perfectly suits you, schedule a free 30-minute frame styling now.

We are your local eye care company that has been operating in Chicago since 2003. Our goal is to always provide you with the best possible solution for your unique needs, and make you feel as comfortable as possible.
Book an Appointment Today and Find a Pair of Glasses You'll Love!
We have eight locations across Chicago, so no matter where you are a CustomEyes is nearby!