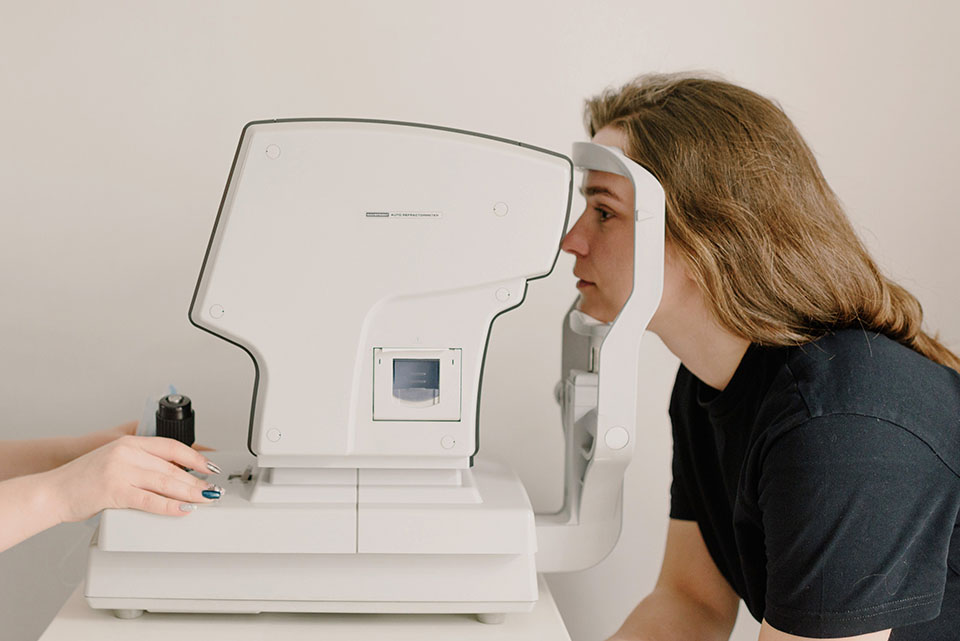 Glaucoma is an eye disease which is often inherited. It can cause vision loss. The vision loss caused by glaucoma is usually irreversible, which is why you should get screened frequently.
Glaucoma is a disease where pressure in the eye cannot be released, and ultimately causes damage to the optic nerve. Pay special attention to any vision changes, because glaucoma develops slowly and can be difficult to detect before it is a bigger problem.
Your eye is constantly producing Aqueous Humor. As your eye produces the liquid, it levels off naturally and releases older Aqueous Humor through an area called the drainage angle. This keeps your eye in a state of homeostasis, your body's natural regulation of fluids and biomechanics. If your iris sits too close to the drainage angle, or the angle does not drain properly, intraocular pressure will build in your eye and damage the fibers of your optic nerve. All of these fibers contribute to your vision, if they die completely you may lose vision spots or all vision.

There are a couple distinct forms of glaucoma:
Closed-Angle Glaucoma
Also called Angle-Closure glaucoma, this is a big one to watch out for. If your Iris sits too close to the drainage angle and it becomes closed completely, pressure can build rapidly and you may become blind. It can onset rapidly and you should treat it as a true emergency. If you suddenly develop these symptoms rapidly, see a doctor or ophthalmologist immediately.
Blurry Vision
Severe Pain/Headache
Acute Discomfort in your eye
Eye Redness
Nausea and/or Vomiting
Rainbows or Halos around lights
Open Angle Glaucoma
This is where functionally the drainage angle does not work properly, even though there is no visual hindrance. Also called wide angle glaucoma.
Secondary Glaucoma
You are more susceptible to glaucoma if you have conditions like Diabetes or Cataracts. Consult with your eye care professional about secondary concerns, and schedule regular checkups
Pigmentary Glaucoma
This is where small pieces of the colored part of your eyes, your Iris, can become caught in the area of the drainage angle and hinder fluid flow.

You are more likely to get glaucoma if you:
Have a secondary disease, like diabetes, cataracts, high blood pressure, or problems with intraocular pressure. Always inform yourself about conditions as they develop, and be aware of secondary complications.
Have a genetic history of glaucoma. People of Africa, Asia, Latinx communities, and Ireland are more likely to have problems with glaucoma.
Have a direct inheritance. If your parents or grandparents had glaucoma, you are more likely to develop it.
People over 40 are more likely to develop glaucoma, but it is also fairly common in younger people. Many treatment options are available, but optic nerve damage is often irreversible. Make a plan to screen frequently, stay informed, and keep open communication with your eye care professional about your concerns.
If it is something you are concerned about, contact us at CustomEyes. We have a team of dedicated eye care professionals all across Chicago to help ease your concerns. We offer comprehensive care, prescription, screenings, and style guidance to all of our clients. No matter what conditions, prescriptions, style, or needs you have – we have a customized plan for your vision!
We are your local eye care company that has been operating in Chicago since 2003. Our goal is to always provide you with the best possible solution for your unique needs, and make you feel as comfortable as possible.
Book an Appointment Today and Find a Pair of Glasses You'll Love!
We have eight locations across Chicago, so no matter where you are a CustomEyes is nearby!