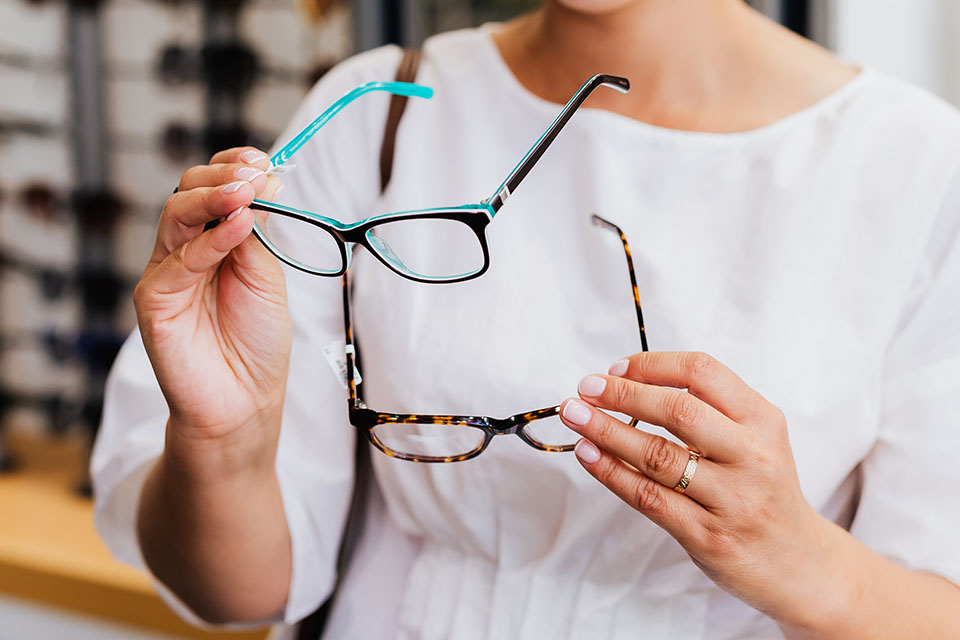 As you grow older your vision may change. This is totally normal, and is nothing to panic about. As your vision changes, your prescription may change. Whereas you may have simply been nearsighted before, you may have difficulty seeing farther away now. This can happen at any time but as you grow older it is more common, and the term for age-related vision problems is Presbyopia.
When you need a more complete visual aid, your eye doctor may recommend more complex lenses, usually in either bifocal or multifocal varieties. What is the difference between these two lens types?

Bifocal Lenses
Bifocal lenses were invented and worn by Benjamin Franklin, so if you wear them you're in good company. The lower part of the lens is a prescription to see closer. So, if you have a book or your phone and you glance down, you are able to see it more clearly. This is easier on the eyes for focusing, and is used to assist people with focusing issues or eye teaming. The top half is configured for seeing far away, so you may easily drive or throw a baseball around. The main hangup with Bifocals is the line in the middle of the lens. There is a demarcated separation between the segments of your lens. The line can be a nuisance for some.
Who Should Wear Bifocal Lenses?
Anyone who has problems with multiple vision types. Bifocal lenses may be used for patients with Presbyopia, Myopia, Hyperopia, or Astigmatism. There is some evidence that use of Bifocals can lessen the progression of Myopia.

Multifocal Lenses
Multifocal lenses offer more than one vision correction. So they typically offer lens powers for close, far, and intermediate vision. There is no separation between the lens types, so it may initially take some time for your eyes to adjust. We move our eyes frequently and glance often, the quick changes in focus may cause eye strain or headaches early on. As your eyes become used to the division, your vision will become much more comfortable and improved. Having a spectrum of vision options helps to ensure you will be able to take full advantage of your lenses and see accurately.
Who Should Wear Multifocal Lenses?
Anyone who has difficulty seeing throughout multiple lens powers. If you are having more distinct difficulties seeing throughout the day, your eye doctor may opt for multifocal over bifocal. There is less visual space for each lens power, because there are multiple–the "clear zone" or piece of lens for each use is a fraction of the lens. This saves you from having to carry multiple frames, though.
At CustomEyes we offer a full suite of vision options. We have boutique handmade frames, with highly durable materials and industry leading lenses. We offer comprehensive eye exams and screenings for eye disease. We offer contacts with bifocal and multifocal options depending on prescription. But most importantly we offer empathy and style guidance to help ensure you see the world. Schedule an appointment!
We are your local eye care company that has been operating in Chicago since 2003. Our goal is to always provide you with the best possible solution for your unique needs, and make you feel as comfortable as possible.
Book an Appointment Today and Find a Pair of Glasses You'll Love!
We have eight locations across Chicago, so no matter where you are a CustomEyes is nearby!