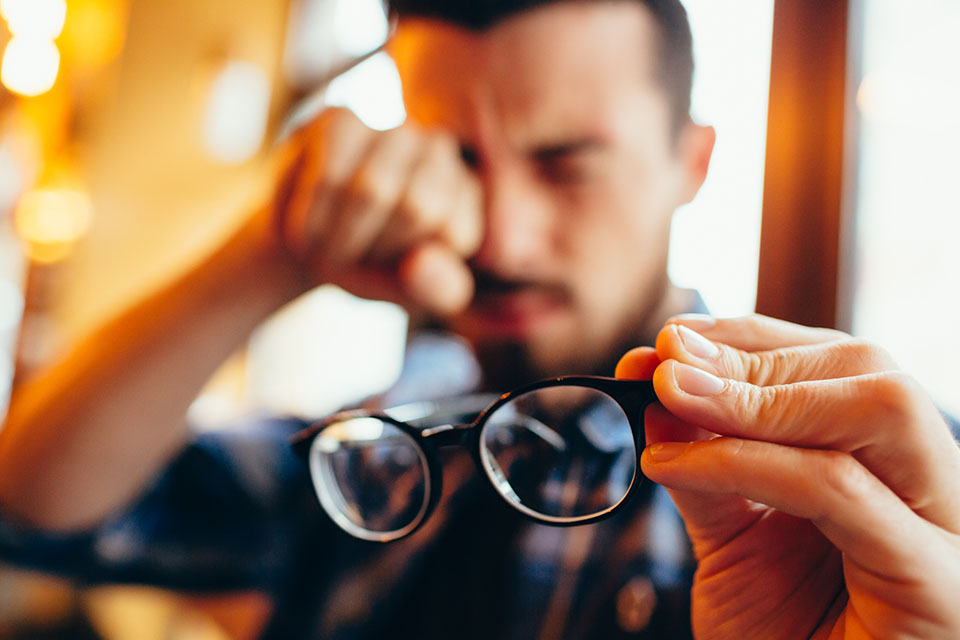 Do you have blurry vision, or do you experience out-of-focus eyesight from a certain distance? If your answer is yes, you may have astigmatism. Let's look at what astigmatism really is, what symptoms you should look out for, and what steps you can take to treat them.
What is Astigmatism?
Astigmatism is a term used for the irregular shape of the surface of the eye called the cornea. It is a fairly common vision problem. Ideally, your eye is shaped like a perfectly round ball, for instance, a basketball. If you have astigmatism, your eye is shaped more like a football. This means that when light comes into it, it doesn't bend evenly but more to one direction. Therefore, only part of an object is in focus, which causes blurry vision. It's common to have astigmatism along with nearsightedness (myopia) or farsightedness (hyperopia). These three conditions are called refractive errors because they involve how your eyes bend or refract light.
When your cornea has a distorted shape, you have corneal astigmatism.
When the shape of your lens is distorted, you have lenticular astigmatism.
In either case, your vision for both near and far objects will be blurry or distorted.

What Causes Astigmatism?
While we know that astigmatism is caused by the irregular curvature of the eye's cornea or lens, optometrists and researchers still aren't sure as to how this happens in the first place. Most people are born with it, but astigmatism can also happen after an eye injury, an eye disease, or surgery. Doctors don't know why cornea or lens shape differs from person to person, but it's only a myth that astigmatism can develop or worsen from reading in low light or sitting very close to the television.
What are the Symptoms?
Astigmatism symptoms may include:
blurry vision or areas of distorted vision
eyestrain
headaches
squinting to try to see clearly
eye discomfort
How is Astigmatism Diagnosed?
Astigmatism symptoms come on slowly. Adults with significant astigmatism may realize their vision isn't as good as it should be. Children however may not be aware they have this condition and may not complain about blurred or distorted vision. In any case, an optometrist can diagnose astigmatism through a comprehensive eye examination.
How to Treat Astigmatism?
Glasses and contact lenses can correct astigmatism.
Glasses
Prescriptive lenses correct refractive errors in the cornea and lens of the eye.
Contact lenses
Toric lenses
These soft contact lenses can have different levels of refraction that align with individual meridians of the eye, enabling precise vision correction.
Gas permeable lenses
These rigid lenses have a uniform shape that essentially replaces the refraction effect of the cornea. These often provide sharper vision than toric lenses. You wear the lenses while you sleep, and they reshape your cornea.
Hybrid lenses
These lenses are rigid in the center for higher visual clarity but soft at the edges for more comfort. These lenses often provide the best of both worlds for correcting astigmatism with contact lenses.

Surgery
If you find your blurry vision extremely bothersome, one of the easiest ways to simplify complications of astigmatism is with laser eye surgery. Surgery can reshape the cornea and correct astigmatism. For instance, LASIK surgery uses high-precision lasers to make the cornea more symmetrical and can correct moderate amounts of astigmatism permanently to help you see clearly.
Your doctor will review all available treatment options with the goal of developing clear, comfortable, and efficient vision. In some cases, astigmatism may be so slight that your doctor may not recommend wearing glasses at all.
It's incredibly important to stay vigilant about your vision. If you experience any irregularities, the best way to know what's happening with your eyesight is to get it checked regularly by an optometrist. A comprehensive eye exam can put your mind at ease, and if you have any eye problems, a professional optometrist can always help you address them.
Schedule an appointment for an eye test today. For your convenience, you can find us at eight different locations in and around Chicago. Book an appointment now!
We are your local eye care company that has been operating in Chicago since 2003. Our goal is to always provide you with the best possible solution for your unique needs, and make you feel as comfortable as possible.
Book an Appointment Today and Find a Pair of Glasses You'll Love!
We have eight locations across Chicago, so no matter where you are a CustomEyes is nearby!