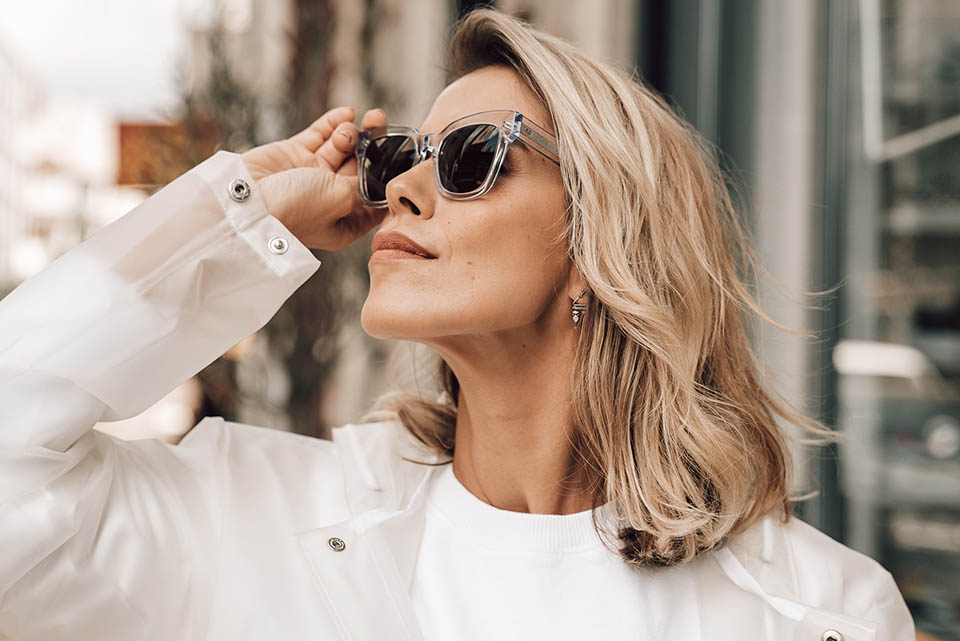 We often think about skin safety when it comes to UV light exposure, but what about our eyes? Ultraviolet light comes from the powerful sun's rays. UV exists out of our visible spectrum, but you can often feel the effects of ever-present sun rays. UV exposure to your skin can lead to tans, burns, and sometimes even growths like skin cancer. While you are surely aware of the sun's effects on your skin, have you ever stopped to consider the effect it may be having on your eyes and eyesight? What you learn here may "open your eyes" to a whole new world of concerns, but have no fear–whatever coverage you are looking for, for CustomEyes can provide.
What is UV?
Ultraviolet (UV) rays are part of the invisible spectrum of the sun. The energy they provide can penetrate through our bodies and cover the surface of the earth. UV rays are classified into three categories; UVA, UVB, and UVC. UVC is usually considered inert, because it is intercepted by our ozone layer. However, if the ozone continues to degrade and become porous, they may be a concern as well. UVA and UVB can present short and long-term effects on your body and eyes. When you are checking the weather in the morning, glance down at the UV index, if it is in the 1-3 range there is less concern and 8-10 is greater concern for damaging exposure.
What effect can UV light have on my eyes and vision?
Short term
Essentially your eyes get a "sunburn". Photokeratitis is an inflammation of keratin as a result of light exposure. It can make your eyes produce tears, be sensitive to light, and create a gritty "foreign-body" sensation. You may feel like you have to rub something out of your eye, but it is just your eyes' natural reaction to a little inflammation. Overall there is no long term concern here, it often goes away the same as a sunburn. If you experience this problem, consult with an eye care professional to ask about temporary remedies, like eye drops.
[adrotate group="2″]
Long term
Long term exposure can be more serious. Long term exposure can increase your chance of cataracts, either from radiation or nuclear origins. As you know from our post on cataracts, the only certain way to treat them for good is to surgically remove them. Long term exposure can also cause lasting damage to your retina.
The retina is a nerve-rich area of your eye, used in eyesight, and it can be painful. Long term UV exposure effects to your retina are not usually reversible. Frequent and prolonged exposure can also contribute to the likelihood of chronic eye disease, and skin cancer around the eyelids. If you notice any growth at the corner of your eyelid, or any discoloration on the white part of your eye (sclera) please reach out to your eye doctor and get it checked out. These areas are also associated with complications due to long-term UV exposure.
Protection and Prevention
Obviously you want the super-cool shades. When you are shopping, ask your eye care professional about sunglasses that protect completely (100%) for both UVA and UVB. Also ask about what percentage of the visible spectrum they prevent. Because ultraviolet light exists outside of the visible spectrum, it is helpful to know what percentage of ROYGBIV your sunglasses will protect against.
Sunglasses are recommended in the most protective form even if you wear contacts with UV protection. Contacts sit over the lens of your eye, but may leave the corners and white part of your eye unprotected. If you plan to spend all summer in the beautiful sunlight, or if you work outside all year round, a comprehensive wrap-around pair might be the style you need to give complete protection.
[adrotate group="3″]
Whatever option you decide to go with, CustomEyes has a customized solution for you. We treat you as an individual, with a particular style, and all our frames are boutique and stylized for you. Our lenses are made from industry leading materials, and we have a dedication to helping you find the best look for whatever your needs are. Reach out to CustomEyes today, and come visit us at one of our eight retail locations!
We are your local eye care company that has been operating in Chicago since 2003. Our goal is to always provide you with the best possible solution for your unique needs, and make you feel as comfortable as possible.
Book an Appointment Today and Find a Pair of Glasses You'll Love!
We have eight locations across Chicago, so no matter where you are a CustomEyes is nearby!