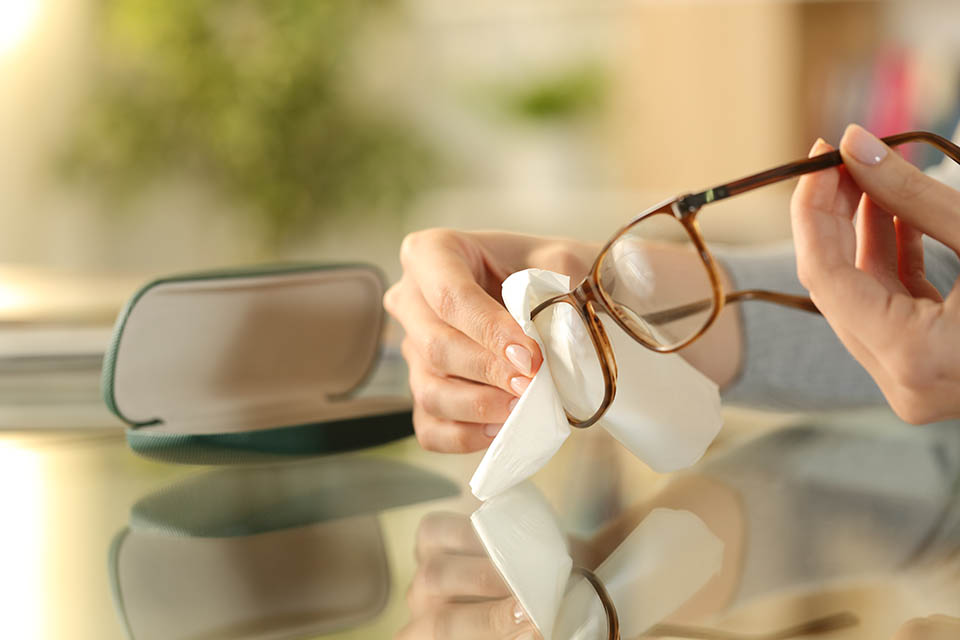 When you put on your favorite pair of glasses or sunglasses, there's nothing better than crystal-clear lenses and unhindered vision. Proper lens care does not only ensure better vision, but also lengthens the lifetime of your glasses. Here are some simple tips on how to clean and care for your eyeglasses and sunglasses.
When should you clean your glasses?
Generally, eyeglasses should be cleaned regularly, ideally once a day, but every one to two days will suffice. However, the quality of the lens can affect how often you need to clean your glasses—your optometrist can provide you with professional instructions.
Keep your glasses clean
Give them a rinse
Use lukewarm water to rinse off your glasses to properly clean them. You can use a gentle cleaning solution as well, but only a few drops to avoid leaving any soap residue on the lenses. Use a clean, soft, and lint-free cloth to wipe away most of the water and allow your glasses to air dry. Alternatively, you can use alcohol-free sprays or cleansers that are available at drug stores and are specifically made to clean eyeglass lenses. We don't recommend using pre-moistened lens wipes.
Use a suitable cloth
While it's tempting to give your glasses a wipe down with the sleeve of your shirt, you should always carefully consider the material of the cloth you use. Avoid paper towels, tissues, napkins, or your shirttail. Regardless of how soft they are, these materials have a textured surface and can easily scratch your lenses. There might also be some debris on the surface of your lenses and wiping them around on a dry lens may be abrasive. Instead, use a microfiber cloth that usually comes with the glasses or is available at most drug stores and pharmacies.
Clean between the lenses and the frame
Sometimes dirt might build up between your lenses and the frame, or around the hinges. You can use a cotton swab and some warm soapy water to clean this away. Take extra care in areas where the lenses meet the frame, or where the frame touches your face, to make sure you remove any stubborn dirt.
On the go
If you're looking for an option for cleaning while you're out and about, try an alcohol-free spray cleaner. You can use this on your sunglasses, safety eyewear, or sports eyewear too. Just blow gently on each lens a little before wiping them to remove any debris, spray on plenty of solution, and wipe the lens dry with a microfiber lens cloth.
Don't breathe on them
As tempting as it is, don't breathe onto your lenses to give them a little clean. You'll only end up creating more smears and smudges.
Looking after your glasses
Pay attention to proper storage
Try getting into the habit of always storing your glasses in their case. This isn't just a great way to keep dust and dirt away from them, but it also protects your glasses from getting scratched, bent, or broken. Rugged or rigid cases or even microfiber pouches serve the purpose of keeping your glasses intact.
Place them carefully
When you're just putting your glasses down for a minute, so you don't want to put them in their case, try to avoid laying them lens-down. The best way is to close the frame and let the glasses rest on their side arms. This can prevent the top of your glasses from chipping or deteriorating.
Have a firm grip
When cleaning your glasses, hold the frames by gripping the nose piece. This way you can avoid accidentally bending the frame. If the glasses are bent out of shape, they will start to look funny and might also feel uncomfortable.
Use both hands
Use both arms to put on and remove your glasses from the temple to avoid misaligning the frame and weakening the screws. If you can't do that, try taking them off from the center of the frame rather than from one arm.
Avoid putting your glasses on your head
Don't put your glasses on the top of your head to avoid stretching the arms of your frame. If you just can't get into the habit of storing them in their case, consider getting a strap to wear them around your neck during the day.
For more tips on eye care and eyewear, explore our blog.

We are your local eye care company that has been operating in Chicago since 2003. Our goal is to always provide you with the best possible solution for your unique needs, and make you feel as comfortable as possible.
Book an Appointment Today and Find a Pair of Glasses You'll Love!
We have eight locations across Chicago, so no matter where you are a CustomEyes is nearby!