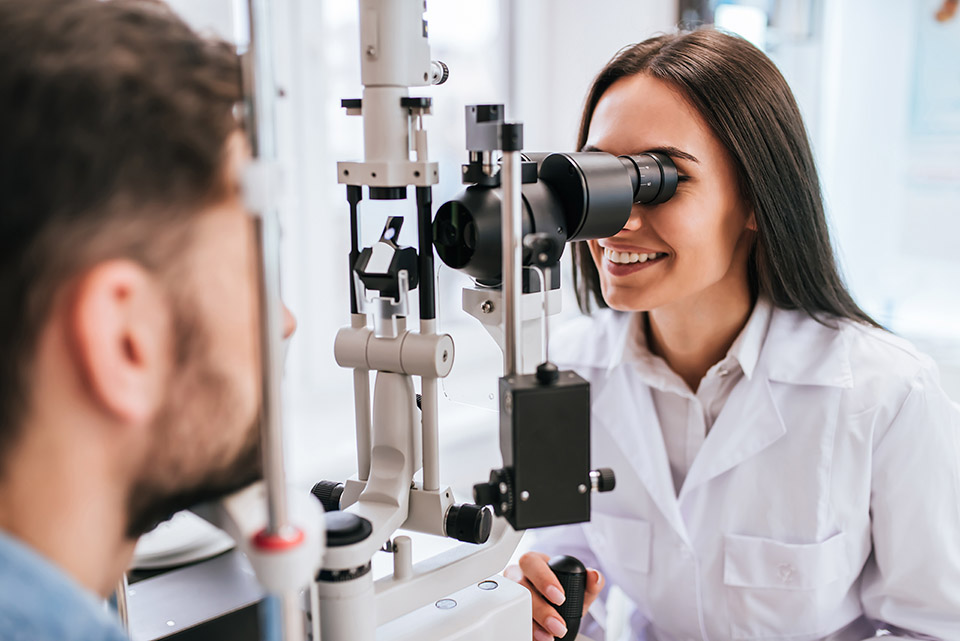 Join us for Healthy Vision Month as we put the limelight on a few useful tips for better eye health!
Get Regular Eye Exams
As a general rule of thumb, everyone, regardless of their age and overall health, should have their eyes checked once a year. Just like looking after your overall health with regular visits to your GP and your dentist, routine visits to your optometrist ensure that your eyes are healthy and your vision is taken care of. And did you know that at your annual eye exam, your optometrist can also detect a number of other health issues affecting your body like diabetes, high blood pressure, or even lupus?
[adrotate group="2″]
Eat healthy foods
Good eye health starts with the food on your plate. Nutrients like omega-3 fatty acids, lutein, zinc and vitamins C and E might help ward off age-related vision problems like macular degeneration and cataracts. For good eye health, we recommend filling your plate with:
Green leafy vegetables like spinach, kale and collards
Salmon, tuna and other oily fish
Eggs, nuts, beans and other non-meat protein sources
Oranges and other citrus fruits or juices
Oysters and pork
Wear sunglasses
Sunglasses are more than a fashion statement — they're necessary for protecting your eyes from the harmful rays of the sun. The most important step in picking out your next pair of sunglasses is to make sure that they block 100% of UV rays. As UV protection is available in all price ranges, you don't necessarily have to pay a premium price. Furthermore, the sun isn't the only thing that can damage your eyes. Spending time outdoors puts you at additional risk of damage from sand, dust, wind and even snow — all of which your sunglasses offer protection from.
Quit smoking
While everyone knows that smoking is bad for your health and the health of those around you, many people still make the mistake of thinking that smoking only harms the lungs and respiratory system. In reality, smoking causes damage to just about every organ in the body, including the eyes. Some conditions that smoking can cause are minor like dry eye syndrome , while others, like glaucoma and cataracts, are more serious. Heavy smokers may also face a risk of vision loss or even blindness. To keep your eyes healthy, the best approach to take is to quit smoking altogether. However, if you think you cannot quit, even cutting back on the amounts you smoke can be helpful.
[adrotate group="3″]
Drink plenty of water to keep your eyes hydrated
The eyes rely on water to help keep them lubricated in the form of tears. Lubrication is necessary to keep eyes moist, remove bacteria, and remove dust and other small particles that get in the eyes. A good rule of thumb is to drink at least eight glasses, or half a gallon, of water or more every day.
Make sure your computer is at a comfortable viewing distance
Many people spend hours in front of a computer screen every day, while thanks to smartphones, facing a digital screen is almost inevitable these days. As staring at a computer screen for several hours can cause eye strain, it's important to give your eyes some relief. Note that the ideal distance to keep your eyes from the computer is at least 20 inches — about an arm's length distance. Adjust the monitor height so that the top of the screen is at—or slightly below—eye level. Your eyes should look slightly downward when viewing the middle of the screen. Remember to blink often and fully and keep the 20-20-20 rule in mind. That is, every 20 minutes, you should look away at something that is 20 feet away from you for a total of 20 seconds.
For more details and useful tips on eye health, browse our blog.
We are your local eye care company that has been operating in Chicago since 2003. Our goal is to always provide you with the best possible solution for your unique needs, and make you feel as comfortable as possible.
Book an Appointment Today and Find a Pair of Glasses You'll Love!
We have eight locations across Chicago, so no matter where you are a CustomEyes is nearby!