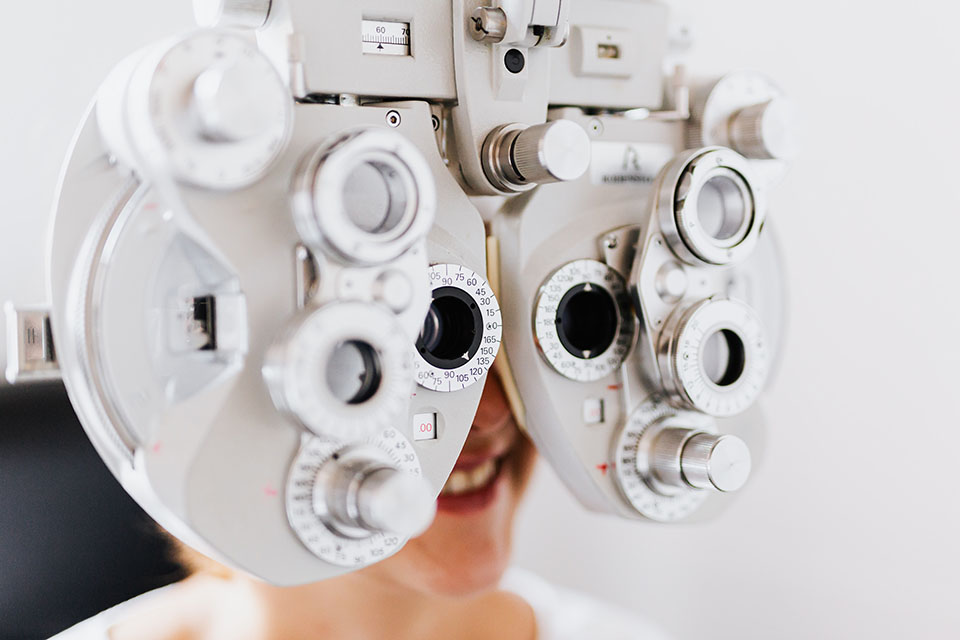 Everyone is familiar with the routine eye exam we all get on occasion. But there's more to an eye exam than meets the eye!
At CustomEyes, we offer a range of different eye exams to take care of your holistic eye health. Here is a little bit more about them:
Routine eye exams
The typical eye exam we all undergo on occasion. Designed to check the progress of your vision and adjust prescription if needed, as well as to keep a lookout for any warning signs related to your vision. This is the one exam that you should schedule on an annual basis even if there's nothing wrong with your eyesight — the others are for specific scenarios you may experience.

Contact lens fitting
To get contacts to fit truly well, you need to do some extra work. Our contact lens fittings include a routine exam, if needed, and then proceed to measure things like:
Corneal Curvature – determines if you need a standard contact lens or a toric lens which fits corneas that are not perfectly round, such as those in patients who have astigmatism.
Pupil and iris size – important for certain specialized lenses.
Tear Film Evaluation – determines how much moisture your eye produces, which can affect the comfort level of contact lenses.
In addition to these, your optometrist can discuss your lifestyle with you, and make a recommendation on the type of contact lenses that will suit you best. For example, some people prefer one-time use contacts, while others don't mind reusing theirs.
Retinal Imaging
By taking a digital picture of the back of your eye, an optometrist can examine your retina, optic disk, and blood vessel for any potential issues. This used to be done manually with a tool called an ophthalmoscope, but retinal imaging gives a much better view. This is an alternative to dilation. It can sometimes be covered by certain insurance plans.
Dry eye / red eye management
Surprisingly common problem, and ones that too many people treat without ever getting to the underlying problem. An exam can help your optometrist identify the underlying causes of these conditions so you can resolve them once and for all, or at least manage them more effectively.
Sty treatment
Stys can be uncomfortable and annoying. While most stys resolve by themselves, one that lingers may require a topical antibiotic or surgery to relieve the pressure.

LASIK Comanagement
We can work together with the LASIK surgeon to make your procedure as straightforward as possible. Comanagement involves the pre- and post- surgery care for your vision. First, a preoperative evaluation by us can help determine if you're a good candidate for LASIK. After your procedure, we'll see you one to two days later to ensure everything is healing as it should be and to answer and follow-up questions you may have.
If you think you're in need of an eye exam, whether it's a routine one or something more specialized, we are here to help! Book an appointment at one of our eight locations around Chicagoland today!
We are your local eye care company that has been operating in Chicago since 2003. Our goal is to always provide you with the best possible solution for your unique needs, and make you feel as comfortable as possible.
Book an Appointment Today and Find a Pair of Glasses You'll Love!
We have eight locations across Chicago, so no matter where you are a CustomEyes is nearby!