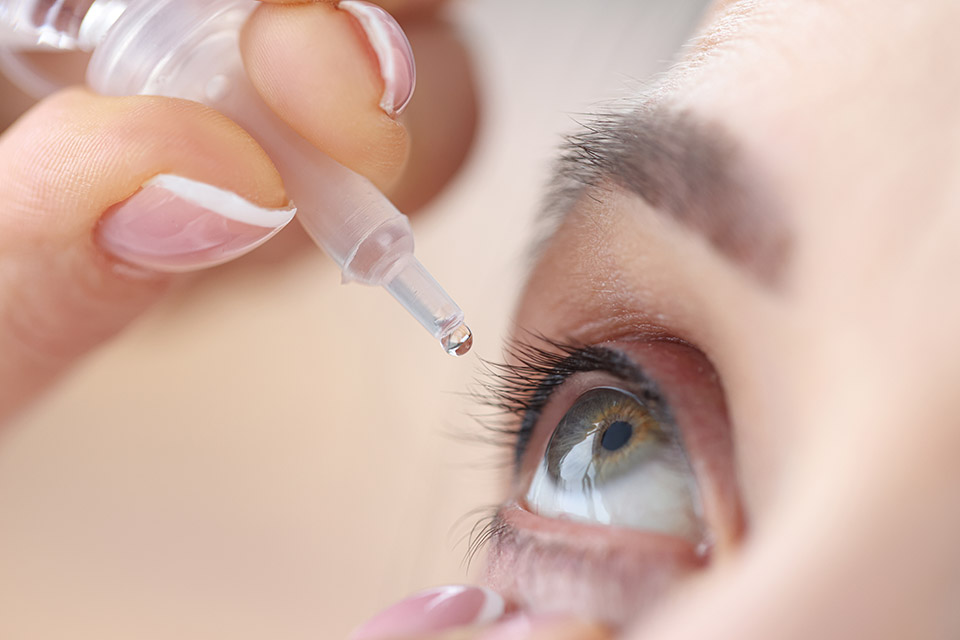 If redness, stinging, or a gritty sensation in your eyes sound familiar, you may have dry eyes. While in some cases, they can be a chronic and progressive condition, dry eyes are often temporary and can be managed successfully. Treatment usually results in greater comfort, fewer symptoms and sometimes, sharper vision. Here's all you need to know about symptoms, causes, treatment, and prevention.
What are dry eyes?
Dry eyes can happen when tears evaporate too quickly, or if the eyes produce too few tears. Your eyes produce tears all the time and healthy eyes are constantly covered with a fluid known as a tear film, which stays stable between each blink. This prevents your eyes from becoming dry and enables clear vision. An imbalance in tear production therefore can cause dry eye syndrome. It can be a temporary or a chronic condition and can affect one or both eyes. While temporary dry eyes are often the result of environmental factors, chronic dry eyes on the other hand are often caused by an underlying condition, such as an inflammation, skin diseases near the eyes, or allergies.
[adrotate group="2″]
What are the most common symptoms of dry eyes?
A stinging, burning or scratchy sensation in your eyes
Blurred vision or eye fatigue
Stringy mucus in or around your eyes
A sensation of having something in your eyes
Sensitivity to light
Eye redness
Difficulty wearing contact lenses
Difficulty with nighttime driving
Difficulty reading or sitting at the computer for long periods of time
Watery eyes, which is the body's response to the irritation of dry eyes
What causes dry eyes?
The natural aging process and hormones. As tear production declines with age, dry eyes tend to affect people over 50. Hormones can also play a role in dry eyes, therefore, some women experience symptoms during pregnancy, menopause or while using birth control pills.
Medication.
Tears consist of oil, water, and mucus. Certain medications can reduce mucus production and contribute to chronic dry eye. These include antihistamines, antidepressants, diuretics, and beta-blockers used to treat hypertension.
Computer use.
When working at a computer or using a smartphone or other digital devices, we tend to blink our eyes less frequently and less fully. This leads to greater tear evaporation and an increased risk of dry eye symptoms.
Laser surgery.
LASIK and other corneal refractive surgeries can sometimes cause dry eyes. In most cases, the discomfort after LASIK is only temporary and resolves within a few weeks of the procedure.
Air travel.
The air in the cabins of airplanes is extremely dry and can lead to dry eye problems, especially among frequent flyers.
Smoking.
Smoking or exposure to secondhand smoke can also make your eyes dry. In addition to dry eyes, smoking has been linked to more serious eye problems as well.
Health conditions.
Certain diseases such as diabetes, thyroid-associated conditions, lupus, rheumatoid arthritis and Sjogren's syndrome can contribute to dry eye problems.
Allergies.
Allergies can cause dry eyes, and as noted above, taking antihistamines to relieve them can also be responsible.
Long-term use of contact lenses. As some lenses obstruct oxygen to the cornea, wearing contact lenses can also cause dry eyes.
Dry air. This can happen if there's low humidity in your home, or if you sleep or work next to an air vent, an AC or a fan.
[adrotate group="3″]
How to treat dry eyes?
Eye drops or artificial tears.
Eye drops that increase your eye moisture are among the most common treatments for dry eye syndrome, while artificial tears also work well for some people. Many types of drops are available over the counter, but as there's no one-size-fits-all solution, you might have to try a few to figure out the one that's right for you. If your eyes dry out while you sleep, you can use a thick product, like an ointment, at night.
Lacrimal plugs.
In some cases, your eye doctor might use plugs to block the drainage holes in the corners of your eyes. This is a relatively painless, reversible procedure that slows tear loss. If your condition is severe, the plugs may be recommended as a permanent solution.
Medications.
The most prescribed medication for dry eye syndrome is an anti-inflammatory called cyclosporine. The drug increases the amount of tears in your eyes and lowers the risk of damage to your cornea.
Home care.
If you experience dry eyes, pay attention to the situations that are most likely to cause your symptoms. Then, find ways to avoid those situations to prevent your dry eye symptoms. For instance:
Use a humidifier to increase moisture in your room and avoid dry climates.
Limit your contact lens wear and the time you spend in front of the computer or television.
Make a conscious effort to blink more often when using electronic devices.
Take frequent breaks during computer use. A good rule of thumb is to look away from your screen at least every 20 minutes and look at something that is at least 20 feet from your eyes for at least 20 seconds.
Be diligent about removing all makeup from your eyelids and eyelashes at the end of the day.
Stop smoking, and avoid smoke as it can worsen dry eye symptoms.
Apply warm compresses to your eyes, gently washing your eyelids with baby shampoo afterwards. This can help release the oils in your tear glands, improving the quality of your tears.
If you think you have dry eyes, or treatments at home aren't helping, talk to an optometrist. They can work with you to discover the cause of your dry eyes and suggest the best treatment option. This is important because if ignored, dry eye can lead to complications, including infection, inflammation, or damage to your eyes. Book and appointment today!
We are your local eye care company that has been operating in Chicago since 2003. Our goal is to always provide you with the best possible solution for your unique needs, and make you feel as comfortable as possible.
Book an Appointment Today and Find a Pair of Glasses You'll Love!
We have eight locations across Chicago, so no matter where you are a CustomEyes is nearby!