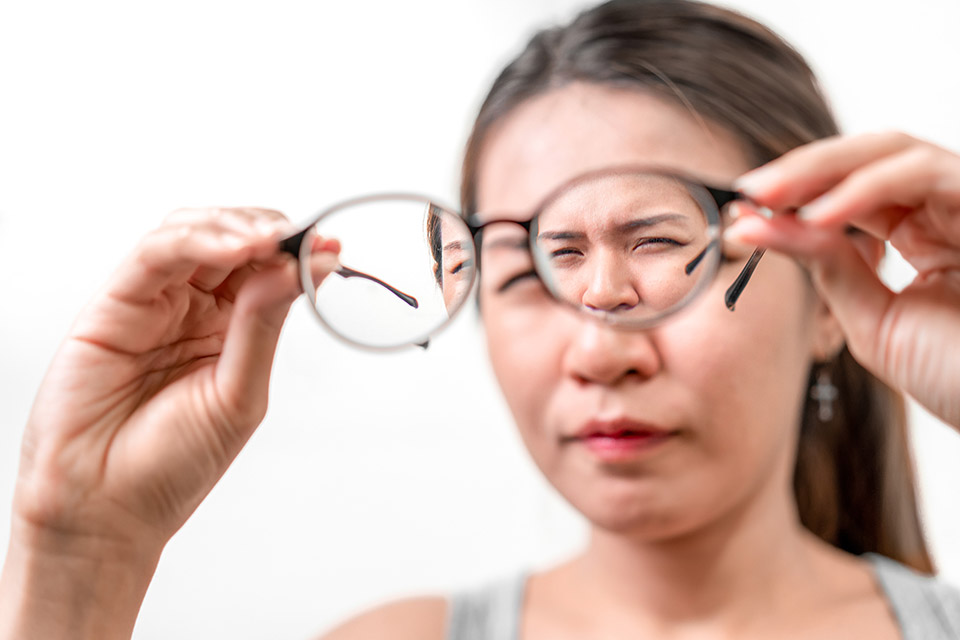 Myopia comes from a Greek root word, and refers to "closing of the eyes, blinking". The term is also used colloquially to describe someone who is short sighted, or singular in focus. When we hear this word in terms of our eye health though, the meaning is clear–there is trouble seeing things far away, and often some blurriness as the eye attempts to focus.
[adrotate group="2″]
What causes myopia?
Myopic, or nearsighted, patients experience a blurred vision at far distances. You can have trouble reading street signs at a distance, but you can easily see your phone or a book close-up. It is a very common vision problem and is typically due to the shape of your eye.
There is nothing you have done per se that has caused myopia. To understand myopia you need to understand how your vision is formed through your lens and retina, based on the refraction of light. When light enters your eye, it is focused on your retina. If the shape of your eye is off fractionally, the focus of this light can shift.
If you have myopia, the refracted light is focused just in front of your retina. This error in physiology could be caused by the size of your eye, lens, or cornea; or a combination of these. There is a correlation between myopia and genetics. If your parents are nearsighted, you will likely have some form of it. There is also a rarer form of myopia called degenerative myopia, which is inherited and needs to be monitored and treated to prevent long term damage.
Symptoms of myopia to watch out for:
Blurry vision, trouble seeing far away. You may not always notice this, it may only be apparent when driving at night or playing sports. Pay attention to your vision, and keep track of any blurry spots.
Headaches. Headaches can have many causes. Because of the proximity of the eyes and ocular nerves to our brain though, it never hurts to consider whether a headache is related to vision.
Exhausted eyes. At the end of the day, do your eyes feel fatigued? It is possible this is due to myopia or other eye strain. You should also consider hydration, time spent staring at screens, and nutrition as other contributing factors.
[adrotate group="3″]
Treating Myopia
Correctional Lenses
These will work as any eyeglasses do, the corrective lens will alter the angle and depth of light that enters your eye.
Correctional Contacts
Prescription contacts will help correct the light exactly the same way an eyeglass lens will. You lose the cool frames, but everyone gets to see your face. There is also some evidence for treatment using eye correcting contact lenses at night to adjust the shape of your eye. This process is called orthokeratology, and you should consult with your eye doctor about whether it would be right for your condition.
Corrective surgery
LASIK and other corrective refractive eye surgeries are very common and advanced these days. The science has advanced to allow surgeons to make impossibly precise adjustments that will fix your myopia. Consult with your eye doctor and your insurance for coverage options.
If you are experiencing myopia symptoms and these symptoms seem to be persistent, or you have any concerns, go see your eye doctor soon. At CustomEyes an optician and eye health team can help to protect and diagnose your eyes. Schedule your appointment today!
We are your local eye care company that has been operating in Chicago since 2003. Our goal is to always provide you with the best possible solution for your unique needs, and make you feel as comfortable as possible.
Book an Appointment Today and Find a Pair of Glasses You'll Love!
We have eight locations across Chicago, so no matter where you are a CustomEyes is nearby!