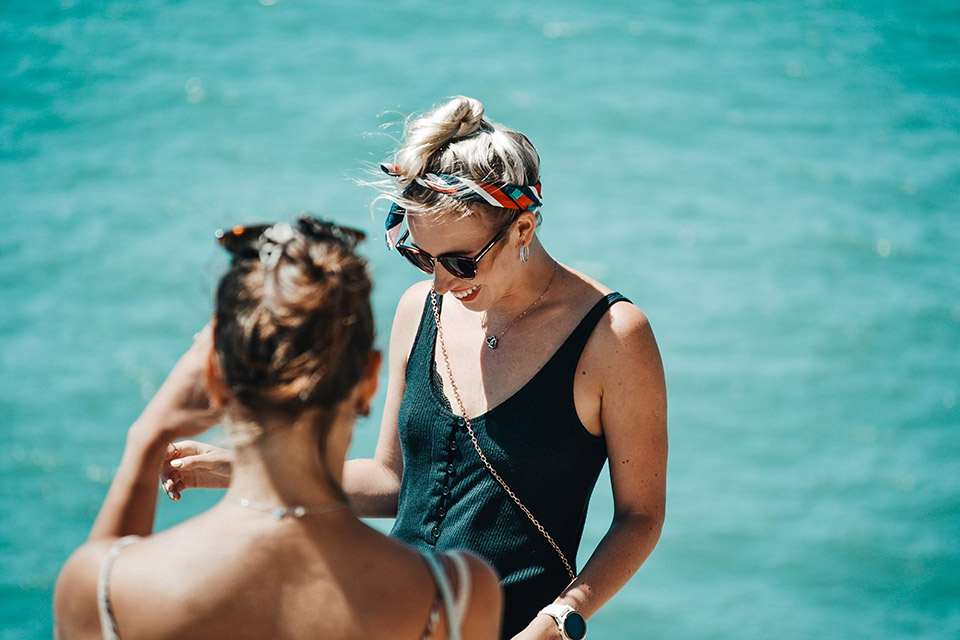 Summer is here and most people are spending more time outdoors. But while you're enjoying all that time in the sunshine, it's important to keep safety in mind and properly protect your eyes, just like you'd protect your skin. July is Ultraviolet Safety Month, so it's a good opportunity to learn more about how you can protect your eyes from damage from UV rays.
How do UV rays damage the eyes?
Ultraviolet light is a type of radiation. While lasers, welding machines, and tanning beds can also produce UV rays, the main source of UV radiation is the sun. Exposure to UV light can increase your chances of developing certain eye conditions, such as cataracts, age-related macular degeneration, and skin cancer on and around the eyelids.
Similarly to how you get a sunburn, you can also burn on the cornea. A corneal burn is more likely to occur at high altitudes or in places where the sun reflects off the water. To reduce your chances of experiencing any of the aforementioned eye conditions, it's important to keep the following tips in mind to properly protect your eyes.

Wear sunglasses
Just like going out without sunscreen can give you sunburn, going out on a sunny day without sunglasses can cause sunburn of the cornea, or photokeratitis. One of the best ways to protect your eyes from UV rays is to wear sunglasses. Be sure to pick a pair that provides 100% UVA and UVB protection and when it comes to size, the bigger the better.
Wear a hat
Wearing sunglasses isn't the only way to fend off those harmful UV rays. To increase protection of your eyes, eyelids, and to decrease exposure, you can wear a wide-brimmed hat or a baseball cap. In addition to protecting your eyes, a hat can also protect the skin around your eyes to help you prevent showing early signs of aging from the sun.
Protect your eyes in the water
Whether you take a dip in a pool or in the sea, protecting your eyes is a crucial step. While chlorine is used in pool water to prevent bacteria growth, it can cause irritation, or even more serious infections. The same goes for salt and other contaminants in the ocean. Be sure to always wear goggles while you're underwater and rinse your eyes with fresh water afterwards. Keep in mind to never wear contacts while swimming.

Protect your eyes while doing outdoor activities
Whether you're going for a bike ride, a hike, or you need to do projects outside like mowing the lawn or some woodworking, you should always cover your eyes with the right kind of eyewear to reduce the risk of something going into your eye and causing long-term injury. Safety glasses or goggles that are appropriate for your chosen activity can shield your eyes and face from potential damage.
Stay hydrated
While having to stay hydrated is a mantra you've heard a thousand times, you may not know that it also keeps your eyes healthy. Especially in the summer, make sure to drink enough water, at least half a gallon each day. If you're prone to dry eyes or have allergies, you can also use eye drops to lubricate your eyes and help them flush out pollen and other contaminants.
Eat leafy greens and vegetables
Good nutrition helps good vision. It's especially important to include leafy greens and vegetables in your diet, because the vitamins and antioxidants in them help guard your vision. Other types of food that are good for your eyes are fatty fish, nuts, citrus fruits, and legumes.
Get enough sleep
Longer days and more social events in summer can sometimes mean less sleep. Tired eyes can feel dry and irritated, while rubbing your eyes when you're sleepy can introduce irritants or bacteria to your eyes. Try to get eight hours of sleep whenever you can in the summer to help your eyes get some proper rest.
Wash your hands
It's important to keep in mind that you should only ever touch your eyes with clean hands to avoid contracting eye-related contagious illnesses such as conjunctivitis. Try to also avoid rubbing your eyes with salty fingers after a swim in the sea or the ocean. Wash your hands as regularly as you can, especially before removing or putting in your contacts.
If you have an eye issue you'd like to discuss, or the time has come for your annual eye test, schedule an appointment now at one of our eight CustomEyes locations!

We are your local eye care company that has been operating in Chicago since 2003. Our goal is to always provide you with the best possible solution for your unique needs, and make you feel as comfortable as possible.
Book an Appointment Today and Find a Pair of Glasses You'll Love!
We have eight locations across Chicago, so no matter where you are a CustomEyes is nearby!