Custom Eyes Optometrist Dr. Jennifer Cameron Talks Eye Health, Tips, and Myths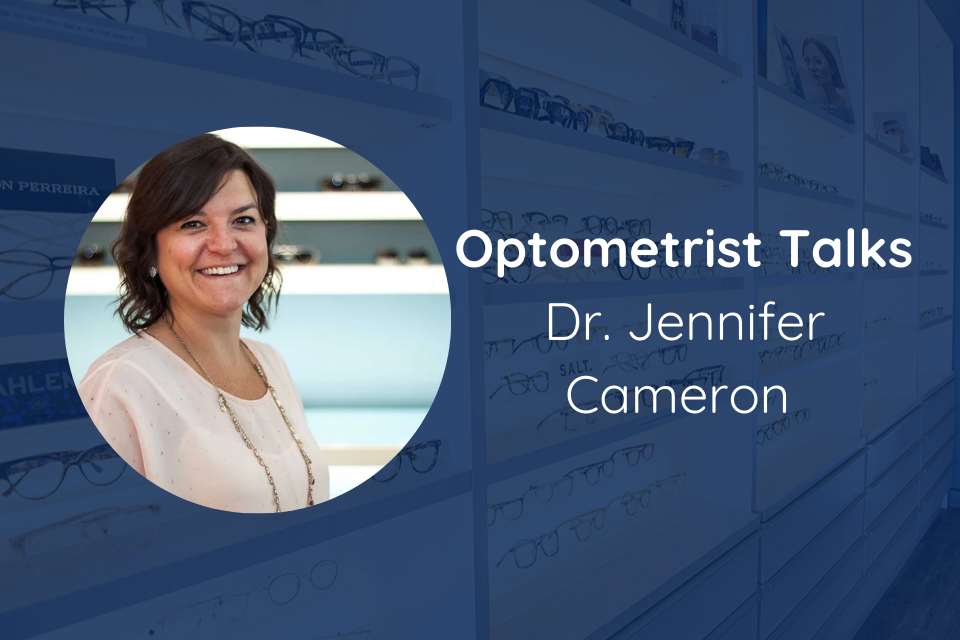 Chicago native, Dr. Jennifer Cameron, is one of the friendly optometrists you can meet at CustomEyes. After graduating from the University of Chicago and Illinois College of Optometry, she tried several practices but decided that the patient-first approach at CustomEyes was her ideal fit. She's been happily serving customers at our Roscoe Village office for more than eight years. Jen loves living in the neighborhood with her budding family and forming strong relationships with her patients, but let's hear the rest from herself.
Jennifer, please share with our readers why you became an optometrist.
Dr. Cameron: Since I was young, I loved biology and always knew I wanted to be a doctor. When I started looking into which kind of doctor, I observed a number of different specialties and decided that my work/life balance was very important. Some doctors I observed worked very long hours and didn't have as much time for their families and other parts of their lives.
Someone suggested optometry to me, and I immediately found a couple of optometrists that loved their jobs so much that they came back from retirement. They loved the relationships they formed with their patients over the years, and that they had time to enjoy their families and lives outside of work. After more than 8 years of practicing at our Roscoe office, I could not be happier with the decision. I've seen kids for their kindergarten eye exam that are now going to college, and it's been a lot of fun.

That does sound fun! In your opinion, are there any bad habits that can hurt our eye health and you would recommend people to avoid?
Dr. Cameron: Not taking care of contacts correctly and wearing them for longer than the recommended amount of time is a common thing that patients do that can cause serious problems. People think they can get away with abusing their contacts but over time, it can lead to corneal ulcers, infections, and at times it can mean patients can't wear contacts at all anymore.
What about your top tips to improve eye health?
Dr. Cameron: Wearing sunglasses and not smoking cigarettes are two of the best habits to get into to keep your eyes healthy. UV light and cigarette exposure both do major damage to the inside and outside of your eyes. Eating green leafy vegetables, getting the right amount of Omega-3 fatty acids, and taking general care of your health is also very important.

Lastly, have you heard about any eye health myths that people believe are true?
Dr. Cameron: "Wearing glasses made my eyes worse". There is not much we can do to make our prescriptions worse, the majority of glasses prescriptions are based on genetics, how our eyes are shaped, and aging in general.
For more tips and advice on eye health, browse our blog.
We are your local eye care company that has been operating in Chicago since 2003. Our goal is to always provide you with the best possible solution for your unique needs, and make you feel as comfortable as possible.
Book an Appointment Today and Find a Pair of Glasses You'll Love!
We have eight locations across Chicago, so no matter where you are a CustomEyes is nearby!